Volleyball Falls Short to Panthers on Senior Night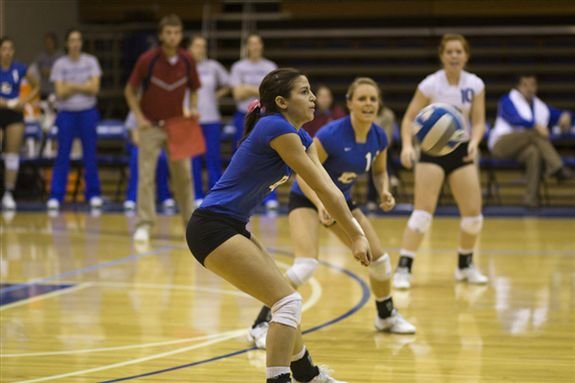 PC volleyball fell in three quick games against the High Point Panthers by scores of 25-19, 25-17, and 25-21.  The Panthers came out strong against the Blue Hose, who seemed to be caught off guard in the first set, posting a quick twelve points while PC managed to only put up five points. Things settled down after that, although the Blue Hose were unable to get any closer than a two-point deficit in the set.
In the second set, the Panthers again pulled out ahead to an 8-3 lead. PC called a time out to settle down again, a move that forced High Point to commit back-to-back errors when the game resumed. With Presley Mabrey's block, the Blue Hose narrowed the deficit to one point. However, High Point kept the lead throughout the set, with a strong finish to secure a 25-17 win.
PC saw its first lead in the third set with back to back kills by Amanda Kettles. The game remained close until the middle with neither team being able to pull ahead by more than two points. After a timeout, the Panthers were able to take a 19-16 lead, scoring four out of five points. The Blue Hose fought back, tying the score at 21, but the Panthers were able to secure the set with a 25-21 win.
Amanda Kettles, who leads the conference in attack percentage, recorded a team-high of ten kills and a hitting percentage of .444. Lisa Shelley also recorded seven kills. Ashley Dunlap had a match high of 13 digs, while Kilee Ruppe had seven digs of her own along with 27 assists. Carolyn Fabros had three digs to go along with Elizabeth Heineman's four digs.
Before the match, the Blue Hose celebrate their six seniors: Ashley Dunlap, Carolyn Fabros, Elizabeth Heineman, Amanda Kettles, Kilee Ruppe, and Lisa Shelley. Each senior member was recognized by their athletic and academic accomplishments, presented with flowers, and then walked into the spotlight by their parents for pictures and applause. Each girl had several posters dedicated to them decorating the gym. PC students had a strong showing at the game, filling the stands to cheer on the seniors and the rest of the volleyball team.
PC fell short in three games to Radford on November 6th and Winthrop on November 10th. They are looking to improve their record to 13-18 overall in their final match against Charleston Southern on November 13th.