Honoring Martin Luther King, Jr.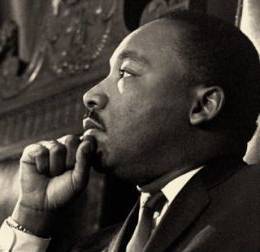 The reader might remember that Presbyterian College was shut down for two snow days. Due to this unprecedented cancellation of two days of classes (and the morning of the Wednesday), Presbyterian College made the unpopular decision of making Martin Luther King, Jr. Day a make-up day. Rather than criticizing the decision, I would like to take up the issue of how we should honor Martin Luther King, Jr. Please note that my opinions belong to me alone (this being an opinion article) and do not reflect the views of either the Blue Stocking or Presbyterian College.
Dr. Martin Luther King, Jr. once said, "Life's most persistent and urgent question is 'What are we doing for others?' "
I would like to propose that the school makes Martin Luther King, Jr. Day a service day. Suppose that the school, instead of using the holiday as a day off (especially considering its proximity to the winter break), decided that students should work on service projects instead. Orientation uses a similar idea. Students could volunteer at the retirement home or take up other projects that Student Volunteer Services oversees, such as Habitat for Humanity. To encourage students to participate, teachers might assign extra credit, mark a lack of service as a day absent, or even make service mandatory.
Some readers will scoff at this idea, but everything about Martin Luther King, Jr. suggests that he believed in social change. Although he represents the Civil Rights Movement, King also tackled issues of poverty and the Vietnam War.
Furthermore, I do not see how we honor him by taking the third Monday of January off. The make-up day controversy stemmed from students believing that going to school on Martin Luther King, Jr. Day would be a disservice to his name. However, if the day is dedicated to service, it will not be as easy to use it as a make-up day. Additionally, I cannot think of a better way to pay tribute to Martin Luther King, Jr. than by dedicating some of my time toward volunteer work. Finally, it would go a long way to show that Presbyterian College is willing to live up to its motto, Dum Vivimus Servimus. Though I cannot say with certainty, I have a real concern that many students have become detached, cynical, too busy, or even lazy regarding their call to serve others. Often, my friends with the Student Volunteer Services will talk about how the same few students show up to participate. I myself have allowed a busy schedule to justify inaction, and I'm sure many others feel the same way. Dedicating a specific day to service will rectify this problem because we will not have to worry about balancing school (since there will be no classes) with service. Furthermore, we will have had a full weekend before the day, and it's so early in the semester that academic stresses are likely to be minimal. Of course, it's possible that some people simply do not want to volunteer. I have no reply, but if that is the case, they chose, in my opinion, the wrong school to attend.