Lady Blue Hose Hold Off Bulldogs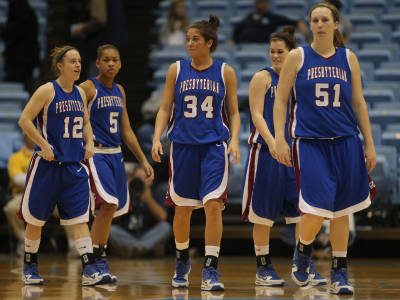 The Presbyterian College women's basketball team held on to get a big win at home over the UNC Asheville Bulldogs on Monday night, 53-51. The Bulldogs came surging back late in the second half, but their comeback was thwarted by the defensive efforts of the lady Blue Hose in the final minutes.
Sophomore, Mariah Pietrowski lead the team with 13 points on 5-9 shooting while logging six rebounds and two steals as well. The lady Hose also had a solid contribution from Dria David; the sophomore from Lawrenceville, GA added 6 points, 4 steals, and 8 rebounds.
Freshman, Sherece Smith (Clemson, SC) had an excellent game scoring 8 points off 4-6 shooting. She surpassed her career-high of 28 minutes of game time by logging 34 minutes in the contest against UNC Asheville. The freshman also added 6 rebounds and 1 steal. Smith is slowly transforming into a reliable option for the lady Hose.
UNC Asheville was led by Grace Blaylock with 24 points, followed by Kendall Shepard who logged 11 points. The Bulldogs trailed the lady Blue Hose 21- 17 at the half and could not overcome the offensive outburst that kicked off the second half. The Bulldogs trailed the lady Hose by 13 with 8:40 left in the second half. However, with solid defense and offensive productivity, the Bulldogs gave themselves a fighting chance in the final minutes. Due to late turnovers and fouls in the final minute of the game, the Bulldogs fell short.
The Bulldogs recorded 19 points off of turnovers and received a solid contribution of 11 points from the bench. The lady Blue Hose only scored 17 points off of turnovers but the home bench outscored the Bulldog bench logging 13 points. The lady Blue Hose also won the battle for points in the paint as well as second-chance points. The lady Hose had 18 points in the paint compared to the Bulldogs 12 points, the lady Hose had 15-second chance points while the Bulldogs only managed to get 4-second chance points.
The lady Hose fell behind by 3 points early in the first but they overcame the early lead and never looked back. The lady Hose had timely three-point shots added by senior Amanda Mills as well as junior Kristen Stevens. The lady Hose also benefited from the defensive efforts of senior Chelsea who contributed 6 rebounds and anchored the defense late in the second half.
PC's lady Blue Hose improve to (6-14, 3-5) on the season while UNC Asheville fell to a (9-11, 2-6) record. By defeating the Bulldogs the lady Hose gain yet another crucial conference victory.
The lady Blue Hose are scheduled to play Saturday, February 5th against Coastal Carolina in Conway, SC. Tip-off is scheduled for 2:00 PM.