Fresman 15: Mary Trimpe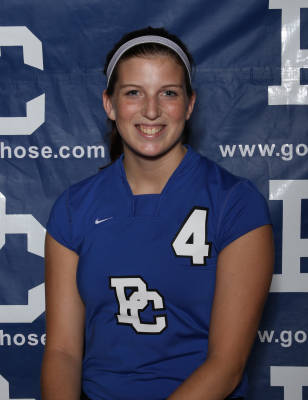 It's time for the freshman 15, where the Blue Stocking asks 15 questions to a random freshman just so the campus can get to know him or her (in this case her) a little bit better. This reporter interviewed Mary Trimpe.
Reporter: Why did you choose to go to Presbyterian College?
Freshman: Volleyball
Reporter: What is your favorite class? Who's your favorite professor?
Freshman: I like Chemistry, even if I don't always do awesome in it. Dr. Vondergeest is my favorite professor
Reporter: What's your favorite movie? Video game? Book? Television show?
Freshman: Zoolander, Mario Kart, Harry Potter, and Outsourced
Reporter: What are the five songs that must be on your playlist?
Freshman:
1. "Top Back" by T.I.
2. Anything (any song they perform) by Cartel
3. "Cinderella Man" by Eminem
4. "Please Don't Go" by Mike Posner
5. "Opposite of Adults" by Chiddy Bang

Reporter: What are three things you could not live without?
Freshman: My family, my books, and my phone
Reporter: What's your secret talent?
Freshman: Impersonating dinosaurs
Reporter: You have $100. What would you buy?
Freshman: Clothes or shoes
Reporter: What's the craziest thing you've ever done?
Freshman: Going to school 12 hours from home and having a long distance relationship.
Reporter: If you could live in any other country in the world (assume you can speak the native language fluently), which country would it be?
Freshman: Italy
Reporter: What's the best American city?
Freshman: Orlando, Florida
Reporter: What's your spirit animal?
Freshman: Dolphin
Reporter: Who's your celebrity crush?
Freshman: Ed Westwick (Chuck Bass from Gossip Girl)
Reporter: Who's your idol?
Freshman: My sisters
Reporter: What's your dream job?
Freshman: Paleontology
Reporter: What's your biggest fear?
Freshman: Spiders, mascots, and clowns
Thank you, and that's all the time the Blue Stocking has for now. This reporter will continue to keep his eyes peeled for more freshmen so the campus can get to know them better.