PC defeats Clemson!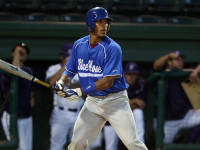 The Presbyterian College baseball team pulled off an amazing comeback against Clemson March 16th at Fluor Field in Greenville, SC. The resilient Blue Hose had to rally after surrendering a two run lead. The Hose scored the go ahead run in the eighth inning and managed to hold off the Tigers to claim a thrilling victory over a D-I, nationally ranked ball club.
By claiming victory over the Tigers, PC was able to improve to an 11-6 overall record while the Tigers fall to 7-7 on the year. The Blue Hose had not defeated Clemson since 1949 so this victory has been long awaited.
Head Coach Elton Pollock was extremely proud of his team stating, "The guys played extremely hard and did a great job overall. It was just a team effort and we're excited about this team and hopefully we can keep up this momentum" in his post game comments about the win.
Chandler Knox earned the victory on the mound for PC even though Steven Richardson started off strong for the Hose with an impressive display of pitching. Richardson only allowed 6 hits and 3 runs over six and one third-inning while he struck out five Tigers. Knox anchored the Hose by only allowing one hit in two and two-third innings. He struck out three Tigers and allowed no runs in his impressive stretch of pitching.
The Blue Hose had some admirable hitting by Brad Zebedis and Tony Micklon; both players had a hit. Aaron Preston and John Wagner both had an RBI in the win.
At the top of the 8th inning the Blue Hose were tied 3-3 with the Tigers. However, with late heroics they managed to rally and cruise to victory. Micklon begun the rally with a single, he was advanced by a sacrifice bunt by Preston.
Clemson then pulled pitcher Joseph Moorefield in favor of Justin Sarrant. The new Tiger pitcher walked the next Blue Hose batter Nate Horton. PC's Kenny Bryant then approached the plate with two on and two out and managed to get on base due to an error on Alex Frederick. Micklon quickly scored giving the Blue Hose the 4-3 lead.
PC's ace Knox maintained his composure and managed to hold on to the one run lead in the 9th. The Blue Hose stunned the collegiate baseball world with a thrilling victory over the Clemson Tigers. After the non-conference win against Clemson, the Blue Hose will begin conference play in the Big South on the road against High Point.
Congratulations Blue Hose, keep up the good work!