Narrow Loss for Blue Hose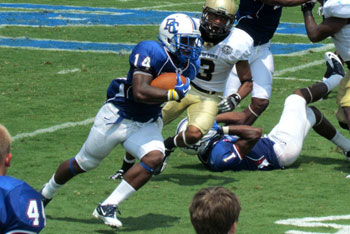 The Blue Hose opened up their 2011-2012 season with a home game against the Wofford College Terriers in a very close game last Saturday. In the first quarter, it appeared to be an even game after Presbyterian College scored the first touchdown on a 28 yard run by Seth Moreland to bring the score 7-0 Blue Hose.
Then, in the second quarter, the Terriers score two unanswered touchdowns which brought the score to 14-7 at the end of the first half. At this point in the game, many fans started to leave in belief that the Blue Hose were the same team they were last year. However, in the second half our Blue Hose returned to the field ready to play.
Wofford College scored two more touchdowns early in the third quarter bringing the score to 28-7 leaving a grim outlook for our beloved Hose. Then a fire was lit and the Blue Hose mounted their comeback with a touchdown pass thrown by Ryan Singer and completed to Joey Gilkey bringing the Blue Hose their second score of the game.
It was in the fourth and final quarter where the Blue Hose had to step up to avoid losing the game with just half the points of the other team. Luckily, the late touchdown in the third quarter was just the beginning of the Blue Hose comeback. In the fourth quarter, Demarcus Rouse ran 4 yards for a touchdown and brought the score up to 28-21, but the Hose weren't done quite yet. After a fumble by the Terriers, the Blue Hose got the opportunity to tie things up and did so with a third unanswered touchdown by Lance Byrd to tie the game 28-28. The score remained a stalemate for the remainder of the game until Wofford intercepted a pass late in the fourth quarter and closed the game up with a final score of 35-28.
Regardless of what the scoreboard said at the end of the game, the Blue Hose are a different team this year and fans should be ready for great things to come this season.