SUB Movie Night!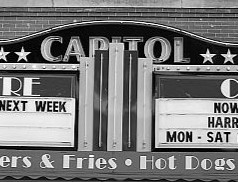 The Laurens Capitol Theater has a very nice, relaxed feel. It is quite unlike most movie theaters. When you first walk in, it looks like you're walking into a diner. The movie theater is in the back, so you walk through the restaurant and then you get to the ticket booth, which is very retro looking. If you have not eaten before going to the movie, you can get dinner and sit in the back of the theater to watch the movie, where there are tables set up. There are also your normal concession options, and the prices are really reasonable.
This past weekend, the movie showing was Spy Kids: All the Time in the World which is a sort of sequel to the 2001 Spy Kids movie. The movie features the original characters Carmen and Juni played by Alexa Vega and Daryl Sabara but the focus is primarily on new characters. Jessica Alba plays Marissa, aka Agent Cortez (aunt to Carmen and Juni), who is a newlywed and pregnant at the beginning of the film. She married a man named Wilbur Wilson who is a widower with two children. Marissa is struggling to be accepted by her two stepchildren, particularly the older sister Rebecca. The plot gets moving when the evil Time Keeper begins to steal the time out of the day, literally the clocks are all moving faster and it goes from Tuesday to Friday within hours (I didn't get it either). Anyway, Marissa had given Rebecca a necklace as a peace offering and the gem in the necklace happens to be the only thing that can stop this time machine. So the Time Keeper's men chase Rebecca and her brother Cecil and they get thrown into the world of spies.
The movie was also supposed to be 4D, using Aroma-Scope which is a scratch and sniff card that you use at indicated times throughout the movie. It's a cool idea, but it didn't really work all that well. Overall, the movie was rather enjoyable, but definitely not as great as the original.
This weekend, Crazy Stupid Love is showing which is supposed to be really good. It is starring Steve Carell, Emma Stone, Julianne Moore, and Ryan Gosling. Definitely consider going to Laurens Capitol Theater and checking it out! After all, who can beat $3?