English Department Hosts Pizza Party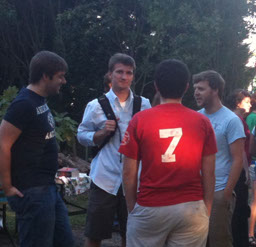 Last Thursday, the English department held a fabulous (and delicious) pizza party at Dr. Molly McGehee's humble abode. All English majors and minors were invited to attend, as well as anyone interested in becoming a major or a minor.
The pizza was from Pizza Hut, and there were a number of tasty options to choose from, including meat lovers and vegetarian. Ms. Frey made homemade brownies that were to die for, and there was a fresh watermelon that I hear was also quite excellent. There was a wonderful turn out this year. I, as a senior, met a number of fresh faces, and a number of upperclassmen attended as well.
Dr. McGehee's adorable son Benjamin stole the show with his toddler charisma. Meg McGill, sophomore, showed off her English Professor shoes–shoes that have a strong resemblance to those worn often by Dr. Thompson. No one got into sin and debauchery, and a wonderful time was had by all.