Pravin Gurung: All the way from Nepal to South Carolina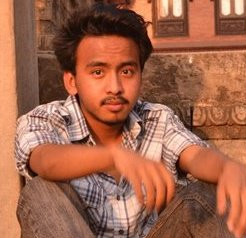 Generally when people think about international students who attend colleges in America , they probably assume the students are from Europe, developed Asian nations like China or Japan, or maybe even somewhere in South America. What most people do not imagine  is that someone from Nepal would come all the way to Clinton, South Carolina to go to PC and get a college education.
Nepal is a country located between China and India, famous for the Himalayan Mountains which include Mt. Everest, the tallest mountain in the world.
Coming all the way to America from a country in Asia is not easy, but freshman Pravin Gurung says he  made the decision to come to America for several reasons: "Well, I always wanted to study abroad. I came to America mainly because I [have] been reading English since grade three and I [have] pretty good English. Also, I heard that United States college life is simply great," Gurung said.
So once he decided to come to America, how did he find out about PC? "About PC, I found it online. It had all the majors I needed and the place seemed nice. So I applied," Gurung said. He is planning to major in mathematics or physics. So far Gurung is enjoying his time here at PC, but he is "still coping with the new environment, especially the food." Another change in environments between America and Nepal is the weather: "the climate is much cooler in Nepal." Which is not surprising considering South Carolina is definitely one of the hotter and more humid states in America!
Luckily for Gurung, since he decided to come to South Carolina, everyone he has met so far has been welcoming, since people here are known for their southern hospitality. He feels that "people are friendly and helpful which kind of reminds me of the people in my country. Only difference is: they don't talk Nepali. It's been weeks since I talked in Nepali!"
And it is going to keep being a while before he speaks Nepali again, because Gurung is here for a quite a long time—he may not even make it home over Christmas break! Who knows, maybe he can start up a club here at school where people can learn to speak Nepali. Either way, Gurung feels that PC was the right place to come, especially since everyone here is like one big family!