Meeting Some Influential Blue Hose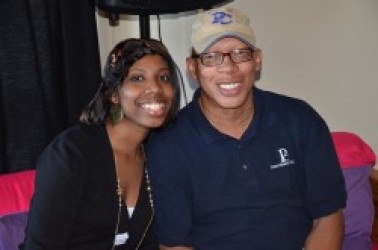 PC's Homecoming weekend marked a celebration for people of all ages. Not only did our Blue Hose football team win, but we had many alumni on campus who were joyously eager to meet up with their college friends and reminisce on the way things used to be.
The African American Alumni Association had many members come to reunite for a celebration of thirty years since their graduation from PC! I personally met with several of these very successful men. Strangely so, there were no women in attendance.
In order to mingle with the African American Alumni Association (AAAA), the Multicultural Student Union (MSU) organized a "drop-in" at the MSU house immediately after the game. The members of MSU were great hosts to their special guest and to the parents and families of PC's current students. MSU had a tremendous turnout! The food was amazing, the music was "banging", and most importantly everyone had fun! I personally enjoyed meeting some of the first multicultural students to ever attend PC, let alone to graduate. Current students even got to meet half of the committee that actually spearheaded the MSU organization here at PC. The alumni involved in the AAAA ranged from all ages; recent graduates all the way back to the very first graduates. The opportunity was beyond astonishing; meeting some influential people in PC's history was incredible.
Now, of course, it wouldn't have been a truly mind-blowing experience if they hadn't made everyone participate in the latest dance — "The Wobble"! This line dance turned out to be one of the best ways to get the students, parents, and alumni to socialize.
One thing I can definitely say about the Multicultural Student Union is that they try to break social barriers in any way possible. The majority of the students in this organization want to get involved with other clubs on campus to help illustrate how diverse our campus really is. Listening to the African American Alumni Association, I realized how much this campus has grown when it comes to diversity and social barriers. Before any African American alumni were involved with PC, this campus lacked diversity of any kind. Everyone who attended PC in its beginning years were all of the same ethnicity, religion, gender, and even social class. Now PC can proudly say that they have a little bit of everything wrapped up in our college community.