Trick or Treat?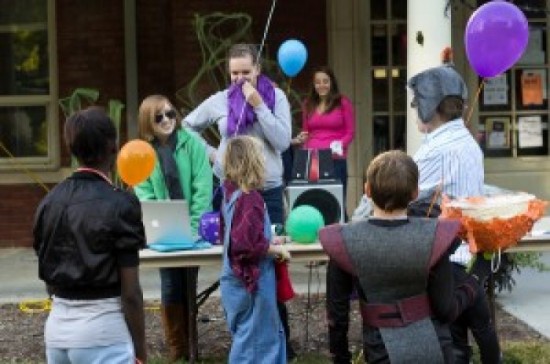 On October 30, to get in the spirit for Halloween, PC hosted a Halloween party for the children at Thornwell to attend from three to five. There were different groups from PC hosting an assortment of games for the children and even the college students to play, and of course there was candy galore.
The party was held outdoors at springs and was a big hit for the Thornwell children. All of them had big smiles on their faces, and they were constantly on the move going to the different stations. At one station, children could make a ghost out of a lollipop using tissues that they tied around the lollipop. If they moved on to the station right next to that one, there was an assortment of cookies where the kids could decorate them with icing and then enjoy them as a yummy snack. Once again, eating seemed to be a big hit at this party.
So in order to help burn some calories, there were plenty of games where the children could use their muscles. In one game, one child would act as the "zombie" and would be blindfolded and have to chase the other children around in order to tag the next "zombie."  In another game, the kids were giving plastic skulls to throw into a cauldron and they would receive candy if they got all the skulls in. there was even a game where the kids could "pick" the nose of a giant cardboard-shaped nose! The trick, though, was that there were two nostril holes—one filled with candy, the other with slimy noodles—so the kids never knew what they were sticking their hands in!
The kids all enjoyed their selves, and so did the college students! Bailey Hill, freshman, "thought it was lovely. I had a great time decorating cookies and playing games with my little sister. It looked like everyone thoroughly enjoyed themselves. There was a lot of laughter and smiles."
Hill is one of the many PC students who has a "little sister" from Thornwell, the children's home across the street from PC. Hill absolutely loves being a part of this great organization. She says, "Imani Joiner is my little sister. I enjoy spending time with her, I like best that we have so much in common. She's easy to talk to and she's just funny; she's an all-around good girl. I couldn't ask for a better little sister."