SUB Deals a Winning Hand with Vegas Night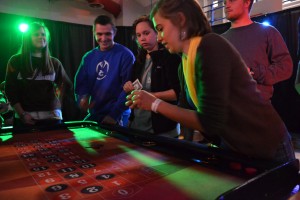 Picture by London Ocon
The Student Union Board hosted its last big event of the Fall semester on Friday night, November 11th, in Springs gym from 9 pm until midnight – Casino Night.  Many PC students came after watching the men's basketball team defeat Montreat or after watching the Theatre Department's production called "Crumbs from the Table of Joy," creating a buzzing atmosphere that only intensified as the night progressed.
Springs gym was transformed into a Las Vegas casino, complete with dimmed lighting and disco lights, drive-in movie screens playing music videos of popular songs, poker chips, and plenty of game tables to bet their provided money at.  Every student who participated had nothing to lose!
168 students and athletes turned out for the anticipated event and packed the blackjack, poker, roulette, and craps tables, which were manned by our own faculty and staff.  President Dr. John V. Griffith, Dr. Campbell of the History department, and Interim Dean of Students Linda Jameison, wearing classic Vegas green visors, were only a few of the faculty who served as dealers at the tables.
Each student received $50,000 in cash as an initial buy-in upon entering the casino, and upon leaving, each student could exchange their net earnings for raffle tickets for prizes including PC t-shirts, cups, and $50 prepaid Visa gift cards.  Peer Educators also helped out at the event by serving mocktails, virgin drinks that included margarita and orange crushes, which added to the buzzing Vegas atmosphere.
SUB faculty advisor Heather Morris and SUB president Chloe Radford were very proud of the great turnout and how well everything came together.  SUB wants to extend a special thanks to all the faculty and staff who participated and for all students who helped in making this exciting event possible.
Student Union Board (SUB) is a student-run organization that sponsors free entertainment and activities for students on campus.  Past PC events include Spring Fling, outdoor and indoor movie nights, Trivia Night, and Homecoming activities.
Stay tuned for more information on upcoming SUB events for the Spring semester.  "Like" PC Student Union Board on Facebook to vote for different events to take place on campus, to see t-shirt proofs for various events in advance, and to receive notifications about upcoming events at PC.