And Then There was One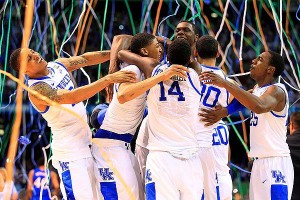 And then there was one.  One night.  One men's basketball national champion. One final SUB event of the year left – the much anticipated Spring Fling.
The Student Union Board hosted a showing of the finale of the March Madness craze that comes around every year.  On Monday night, the national championship men's basketball game was shown on the big screen in Springs Campus Center.
Approximately 50 students came out to watch the eventful basketball game and even more to enjoy the late-night snack offerings at Springs, many of whom were taking a break from studying for tests that fall the week before Easter break.
Kentucky Wildcats fans and Kansas Jayhawks fans alike came out to support their chosen teams, but it was the predicted #1 ranked Kentucky who ended up coming out on top in a thriller and claiming the coveted national championship trophy as the NCAA Division I men's basketball champion.
Springs was open late-night, with specials including wings, chicken tenders, nachos, mini corndogs, and mozzarella sticks at the Grille and Freshens smoothies and ice cream.  At halftime, free brownies and cookies were also provided to students who attended.
Students who came out to watch the game were also entered into a drawing for prizes during the event.  Two $50 gift card to Dick's Sporting Goods and two basketballs were given out as prizes in the raffle.
A special halftime show included SUB's revealing of the music artist, voted on by PC students in a poll earlier in the semester, set to perform at Spring Fling on April 20th.  A teaser video was played until singer and songwriter Shontelle revealed herself as the headlining artist at this year's Spring Fling in a video that expressed her excitement about coming to PC to perform at this special annual event.
The Adam Harris Band, featuring a PC alumnus, will also showcase their talents before Shontelle takes the stage at Spring Fling.
The Student Union Board (SUB) is a student-run organization that sponsors free entertainment and activities for students on campus.  Past events at PC include Vegas Night, Trivia Night, outdoor and indoor movie nights, Coffee House night, and Homecoming activities.
Be sure to keep a lookout for more information regarding the upcoming and anticipated Spring Fling event on April 20th.  "Like" PC Student Union Board on Facebook to vote for different events to take place on campus, to see t-shirt proofs for various events in advance, to look at pictures from past events held, and to receive notifications about upcoming events at PC.