Starting the Year Off Right!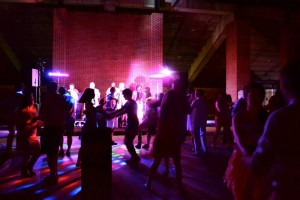 The weekend before classes start each year is always kicked off by the Shuckin' and Shaggin' event which brings Freshman Orientation to a close and represents the beginning of the new school year.  For freshmen, the PC journey is just beginning, for seniors, the journey is rapidly coasting to a close, and for everyone else, the journey continues.
The Student Union Board (SUB) hosted its first event of the semester at the New Bailey Stadium on Saturday, August 18th with an oyster roast and beach music perfect for shagging.  Beating the threats of rain in the early afternoon, the event kicked off at 8pm and resulted in one of the biggest turnouts of PC and pharmacy school students and faculty in Shuckin' and Shaggin' history.  Everyone was brought together to enjoy food, music, and fellowship at the conclusion of the summer holiday.
This year's menu featured roasted oysters, pita chips for hummus and spinach artichoke dip, fresh fruit, fruit dessert bars, raspberry lemonade, and sweet tea – all of which capture the Southern tradition of PC, which is this year's orientation theme.
The Palmetto Groove Band of South Carolina played beach music perfect for shagging and throwbacks from the 70s and 80s perfect for "grooving" on the dance floor. The dancing took place under the stadium arches by faculty and students alike.
Another big hit of the night was a surprise photo booth provided free of charge by the Orientation staff. Students and faculty were encouraged to don some of the many props and costumes provided for the booth and take fun and crazy pictures. The pictures can be found online at flashbooth5.com. They won't be online for another week, but if you choose to "like" Flash Booth 5 on Facebook, you'll be able to see the pictures sooner.
Shuckin' and Shaggin' was brought to a close at 11pm, just in time for the Welcome Back Party held for returning upperclassmen at the Senior Townhouses.  Doughnuts — a delicacy not often found in this small town — were sold as a fundraiser for the Senior Class, and other refreshments were also provided.  The freshmen class attended a Bingo Night held in GDH with pizza and drinks and prizes for Bingo winners.
SUB is a student-run organization that sponsors free entertainment and activities for students on campus.  Past events at PC have included Casino Night, Trivia Night, outdoor and indoor movie nights, Coffee House night, and Spring Fling.  SUB events are free to PC students and faculty with a PC ID and are $5.00 for guests of students and faculty.
Be sure to keep a lookout for more information regarding the upcoming SUB event this Fall  This semester, Casino Night will be a part of Parents' Weekend on September 21st and will be open to both students and their parents.  Homecoming activities will begin on Friday October 10th and will lead into PC's Homecoming football game against Liberty on Saturday.
"Like" PC Student Union Board on Facebook to vote for different events to take place on campus, to see t-shirt proofs for various events in advance, to look at pictures from past events held, and to receive notifications about upcoming events at PC.