The CamPo Monster: Fact or Fiction?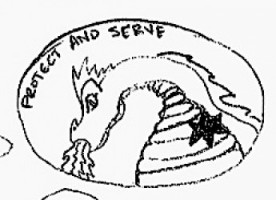 When you show up to the houses on the weekends, you should receive a wristband, but what's the point?
Mr. Larry Mulhall, head of Campus Safety, said it gives Campus Police a reason to approach those who don't have one. More often than not, this reveals that the people are not students and security can ask them to leave. This is one of many methods used to help deter the problems of theft and vandalism, which increase in occurrence when non-PC students enter campus.
Why are there officers patrolling events that aren't from PC?
Mulhall explained that Campus Safety has started temporarily using officers from Alliance Security to make up for the gap in numbers and to help manage the weekend parties and events. At the end of last year, the school offered severance pay to anyone who wished to leave. Seven men left Campus Safety and they are still in the hiring process to replenish their force permanently, but in the mean time the short-staffed office is still in constant demand from the PC campus and working hard to compensate.
Why are fines given for drug or alcohol violations, or parking tickets when there is so little parking available? 
Mulhall explains that it's in an effort to protect the ninety percent of students who are not violators from the ten percent who are repeated offenders. Campus Safety isn't out to 'ruin the fun', but simply doing their job.
When we stop to think of our own belongings, when we become a victim of theft, or our parking spot is taken by someone that shouldn't be parked there, complaints are often made that Campus Safety isn't doing their job to stop such incidences from occurring. We set a double standard that isn't fair or achievable for them and consequences are already relatively lenient compared to other schools' consequences.
 Where does all the money from fines go?
Mulhall explained that it goes entirely into the school's general fund, and Campus Safety doesn't pocket any of it without it going through the school first; they are allocated their yearly funds like every other office at the school.
So what is CamPo doing to be proactive with students about these issues?
The office of Campus Safety has organized an impressive amount of data on all the violations and incidence reports for the last twelve years and has been using these stats as a way of training CAs and other leaders on campus about how to help people in the dorms secure their belongings and have an enjoyable living experience here.
They are educating students that thefts are highest towards the end of October and March, and that they have free anti-theft tracking software to install on computers; these efforts and many more are being given to the average student who maybe isn't a violator of policies but a potential victim of one.
Campus Safety is now enforcing a policy that if a complaint is brought in from the dorms and no one is hurt or legally violating any of their policies, they are going to let Resident Life deal with the matters. Unlike the past, where they have had to handle issues that Resident Life may have been better suited to deal with. Another service their office will be providing is releasing the weekly crime happenings on campus to be published and made available to the PC community through the Blue Stocking, look for it soon on our website.