SSA to Light the Night for Others!
Presbyterian College's very own Student Secular Alliance (SSA) will be participating in the Leukemia and Lymphoma Society's annual charity walk, Light the Night, this Thursday, October 11th at Furman University. This national charity effort raises money and awareness for research valuable in the fight against various blood cancers.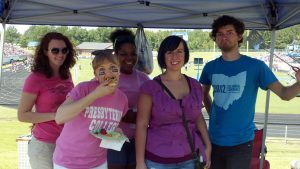 Currently, PC's SSA has raised an impressive amount of just over $2000 which is close to their overall and initial goal of $3000. Harrison Hopkins, founder and president of PC's SSA, ascertained support from two local businesses, Dempsey's Pizza and Sadler Hughes Apothecary, in addition to all the donations collected on campus.
The PC SSA's efforts have proven to be successful enough to place them as the highest raising SSA affiliated division in the nation, surpassing the donations of other groups from other colleges and universities. Thus far, Hopkins believes that, "it wouldn't be possible to be where we are without the help of everyone here at this school. If everyone donates one dollar, we will meet our goal of three thousand dollars!"
In their continued efforts to build and grow in this their second year, the PC SSA is focusing on doing more philanthropic work in our local community and, more broadly speaking, our global community as well. With elected officers in place, Hopkins feels as though this year will mark the beginning of the group's active participation on and off campus.
In addition to all of the philanthropic efforts PC's Student Secular Alliance has on slate for this year, they will also play host to several key speakers and be meeting regularly to cultivate and further develop a community for the secular students here on campus. They truly are acting upon our school's motto of "Dum Vivmus Servimus"- while we live, we serve.
Transportation to and from Furman will be provided, and, on top of that, you'll get the satisfaction of helping out your fellow people! If interested in learning more about PC's SSA in general, use the contact info mentioned above.