Ladies and Gentlemen, we give you… The Scotsman's Corner!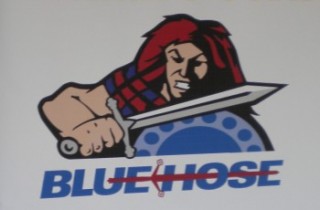 In light of the many new changes going on at PC this year,—new president, different eating hours at springs and GDH, and increased security at the frat houses—another change has been thrown our way: the movement of the PC store back on campus.
After an extensive interview with Amy Ahlum, the reasoning behind this is clear. According to Ahlum, "The school wanted to bring [the store] back on campus to make it more convenient for students and guests. We didn't need as much space because textbooks are now ordered online." So far, the store seems to be doing pretty well. The opening ceremony was held a few weeks ago where the new name, the Scotsman's Corner, was released to the public.
The opening ceremony was a success: "The Grand Opening for the store went well! We had several students there among the mayor of Clinton, Laurens Chamber of Commerce, Dean of Students, and President of SGA. We gave away an iPod amongst other store merchandise" Ahlum said.
Since the ceremony was a pretty big hit, students have been wondering if the store is garnering more business since being moved back on campus. Ahlum was not able to answer this question since she does not know the previous sales from the old bookstore, but she did say, "So far we are very excited about the sales this year, and it seems like the students, faculty and staff are enjoying the store being back on campus." As a student with a busy schedule, I can vouch for that comment and I have to say, I enjoy being able to walk to the store instead of having to drive to it!
Some people were wondering why exactly the store was placed inside GDH, since this location seemed slightly random. In response to this questioning, Ahlum replied: "GDH is a central location on campus, the space was available and it has a higher traffic level since [both] students and guest come here to eat!" Needless to say, the location has indeed made it easier for students to visit the store.
When asked about the goal for the Scotsman's Corner, Ahlum stated: "Our overall goal at the Scotsman's Corner is to offer seasonal merchandise throughout the year so we are always rotating our offerings. However, we are always open to suggestions and comments from students, faculty, and staff on ideas of different types of merchandise, gifts, and materials they would like to see at the Scotsman's Corner."