It's Sexist Month, Y'all!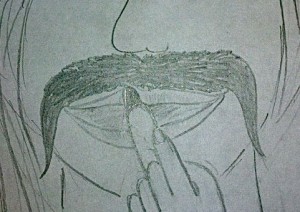 Dear readers, we find ourselves in the midst of another furry November. It has come to our attention that a new stipulation on exactly how much hair– and most telling, where –can be grown. Readers, we are speaking of none other than Movember, the biggest example of terrible hairy sexism these writers have yet seen.
Yes, men can certainly participate in this demonstration, but can women, some of the "males" on campus, and prepubescent boys? No, my reader: just no. Lo, I hear a choir in the distance, and they sing of a time in which all will be able to raise awareness for prostate cancer without resorting to the perpetuation of upper lip hair. To be sure, readers, awareness for prostate cancer is pretty darn important—but at the cost of our hard-won gender equality?
Now, I hear another choir at another distance-not-too-far-away-to-be-out-of-hearing-range, and they speak on about bearded ladies and unshaven legs, and how there really is equality for all in the realm of hair. Of course, if a lady was so gifted as to be able to grow a beard, she would surely not stay long at PC, but would mozy on to find more gainful employment, perhaps in a circus.
Why, oh why, dear reader, is it that when a woman sports ungainly facial hair, her only—albeit well-paid—option is to flee to the circus? As for leg hair, its cold, y'all. People wear jeans. Even if women wanted to show support, it would be very difficult and almost certainly awkward to do so, what with the constant pulling up of pant legs. When asked if she felt that the so-called Movember is discriminatory, sophomore Helen Wilkins had this to say: "I agree with that. My lack of a mustache doesn't mean I lack in support and awareness."
However, as a counterpoint to this compelling argument and answer to the above question, sophomore Jennifer Lockman said "no." Also, sophomore Matt Zold, in vivid detail, said "Well, my great aunt can grow a mustache, so why can't they?" Ho ho, dear reader. It seems we may have a refutation at hand.
But now, O reader, amidst the cacophony of the other two choirs, I can barely pick up on yet a third choir, singing some random pop tune, possibly Lionel Richie or Carly Rae Jepsen. No matter, dear reader. While this particular tune wasn't necessarily enlightening, as the others, it did show us that no argument can be solved by the intense bickering of two viewpoints on the subject. Rather, it is our job as true journalists to only expose the facts of a given situation, without guiding you one way or another into a moral abyss. With that, and the two views on the subject above, we leave you to your own conclusions, and a little helpful advice.
Ladies: Be easy on the guys this month. It's Movember, No-shave November and Call of Duty and Halo just came out. If all goes well with that combination, you may not even see a guy. (Granted, we realize that videogames and not-shaving aren't limited to guys)
Guys: If you do decide to grow a mustache, refrain from emulating the creepy guy in the park who owns a windowless white van. Please. Refinement, gentlemen, is key.
Creepy guy with the van: No offense, man.