How 'Bout them Hose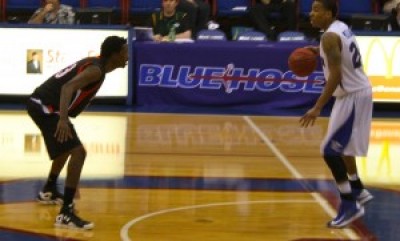 Saturday, our very own Templeton gym played host to not one but two basketball games. A double header between the PC women and men's basketball teams against Radford and Campbell Universities, respectively. PC Women played at 5, followed by PC Men at 7:45.  PC women played a very intense game against Radford, trying to maintain their winning streak in the Big South Conference, 5-0.  Maintaining this streak proved to be difficult. 
During the game, PC women were struggling and all seemed lost.  At half time the score was 21-17, Radford.  When the second half began, Radford widened the score gap and fans were beginning to doubt if the Lady Blue Hose could pull it off.  With six minutes left on the clock, Karlee Taylor, Jr, shot a three pointer and brought the Blue Hose back within ten points of Radford. Final score Radford University 49, Blue Hose 31.
Next on the lineup, our men were to play against the Campbell Camels. I know what you're thinking…camels? as a mascot? But nonetheless, they proved to be highly competitive. Jordan Downing (So.), scored the first basket of the game and teammate Joshua Clyburn (Jr.), valiantly brought the Blue Hose to double digits. In the first half, the Blue Hose kept the score close, not letting the Camels get the best of us.
The second half, however, we brought our "A" game only to find that the Camels had an "A+" game. Ultimately, the many turnovers in the second half cost us the game. With a mere 2:12 on the clock, Joshua Clyburn, Jr., gave hope to the fans by bringing the score back within 10 points. Despite Clyburn's basket, the Camels surged forward with the help of fouls and numerous turnovers. Final score Campbell University 62, Blue Hose 46.
Despite the losses, it was an incredible effort put forth by the PC Men and and Women's basketball teams. Next men's game will be against Liberty on Saturday January 19th at 7 p.m. and the women will be playing against Gardner Webb at 7 p.m. on Thursday, January 24th. Support your fellow Hose!