Blue Hose Douse the Flames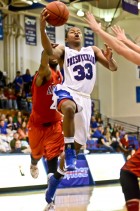 MLK weekend did not stop the turnout at the Saturday night basketball game.  Many students, parents, and faculty attended the PC v Liberty game.  Going into the game, expectations were high.  The PC men had yet to win a Big South Conference game, while Liberty had won one out of four.
Fortunately, hope was fueled when Joshua Clyburn (Jr) made the first basket of the game.  With 10 mins on the clock, the Liberty Flames scored ahead with a point lead, 10-9.  The Blue Hose wouldn't stand for this and took back the lead with a 3-pointer.  Liberty, once again, tried to gain the upper hand and tied the score, but Khalid Mutakabbir (Sr) brought PC back to the lead with another 3-pointer.  The Blue Hose were doing great with rebounds and Mutakabbir was bringing the 3-pointers.  We were winning the first half with a score of 31-25.
In the second half, Clyburn brought the fans some amusement with a slam dunk.  The Blue Hose maintained the lead for the rest of the game.  With a free throw, Mutakabbir brought the team a 10 point lead with 15 mins left on the clock.
Another major part of the second half was fouls.  Fouls were low in the first half, but the Flames and the Blue Hose began to rack them up in the second half.  The Flames had a foul total in the second half of 14, while the Blue Hose had 10.
Gasoline was poured on the Flames but the Blue Hose just kicked some dirt and put the fire out.  The final score was 68-60, Blue Hose.  This is the first conference win for the Blue Hose.  These Hose are good!
Don't forget! The PC men play again Wednesday, January 23, at 7 against Charleston Southern.  The PC women play Thursday, January 24, at 7 against Garner Webb.  Support your Blue Hose!
Picture provided by Dillard Stephens.