Keep Your Head Up, Lady Blue Hose!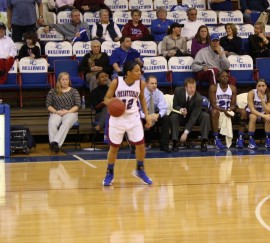 January 31, the Lady Blue Hose hosted the Winthrop Eagles for a home game.  Both the Lady Blue Hose and the Eagles have lost 2 conference games, winning the other 7.  The game started out with the Blue Hose winning the tip off.  The Winthrop Eagles made the first basket of the game, giving them a lead.  In the first two minutes of the game, the Eagles gained a lead 5 to 0.
With fifteen minutes left in the first half, the Eagles already had a double digit score of 15, with the Blue Hose still at zero.  Shonda Burnside (Sr) put the Blue Hose on the scoreboard with a two pointer.  The Eagle's defense was strong, not allowing the Blue Hose to make many shots.  Half way through the first half, the Eagles were leading with 26-4.  Their blocks and rebounds were not something to be trifled with.  Fouls were tied, 2-2.  For the first half, PC's Karlee Taylor (Jr) was leading in game points with a total of 5.  The score at the half was 36-15, Eagles.
The second half was slightly better for the Blue Hose.  They were able to get a few points on the board.  The rebounds improved and the Lady Blue Hose decided to fight back against the Eagles defense.  Taylor's 3 pointer brought the Blue Hose back within 18 points of the Eagles with fifteen minutes on the clock.  But the Eagles adjusted their game and strengthened their defense.  With ten minutes remaining in the half, the score was 58-30, Eagles.
The Eagles were literally ripping the ball out of our hands.  Their defense was unbelievable, but this did not stop our Lady Blue Hose.  They fought with all their might to get points on the board.  The score margin shrank from 30+ points to 27.  Once again, Taylor's 3 pointer brought the Blue Hose closer to the Eagles, 42-66, with 4 minutes left on the clock.  Even though the Blue Hose fought hard, the Eagles prevailed.  Highest game points go to Karlee Taylor.  She shot four 3 pointers and two 2 pointers, resulting in a total of 16 points.  Final score: 77-42, Eagles.
Always come to home games! Next men's game will be against Garner Webb on Wednesday, February 6th at 7 p.m. and the women will be playing against Campbell University at 7 p.m. on Thursday, February 21st. Support your fellow Hose!