PC Baseball: Looking Ahead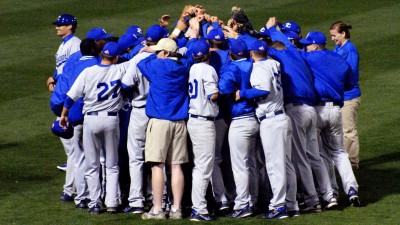 With Presbyterian College baseball team's career conference record at 33-71 in the Big South, one could easily say the Blue Hose stand for much improvement.  However, simply looking at this record without a glance at the teams within the conference gives a skewed impression.
PC joined Division I play in 2008, throwing our boys into a conference established in 1983–a fairly competitive conference at that.  In addition to this, we added our small school of around 1,300 students to a conference that averages student bodies of roughly 5,500 students.  That is four times larger than PC.  Keeping this in mind, we play schools like Coastal Carolina University, who, in 2009, barely lost out on the opportunity to go to the NCAA Men's College World Series by losing in the Super Regionals to none other than the University of South Carolina, who went on to win the National Title that year. This year the NCAA has Coastal ranked 39th nationally with the Big South favoring Coastal to win the South Division of the Big South. Clearly, competition within the Big South is no laughing matter.  Pollock agrees, "I find the competition within our conference to be as challenging as any outside competition."
Last year we had a conference record of 10-14; while not a winning record, it shows big improvement from just two years ago when, in 2010, we had a conference record of 7-20.  While we are far from the best, our statistics show steady improvement.  Coach Pollock believes that with dedication PC can not only have a winning season, but win the Big South Conference Championship altogether.
Coach Pollock is in his ninth year coaching Blue Hose baseball. He is an alumni of the class of '94.  He has an optimistic outlook for this upcoming season, stating, "We are a much more improved team this year, with each of our players more committed to the overall success of the team." One thing he'd really like to improve on this year is consistency in every aspect of the game.
Despite the fact that we did lose some great players from last season, and with them some very important experience, Pollock says that he is excited "because our talent level is higher than it's ever been."  Our pitching and defense look strong, according to Pollock, but we do have to overcome the youth of our team.
Pollock is a fan of stolen bases and believes that we have players fully capable of stealing 20 or more bases this season.  Speed is always important in base running and skill at that level will most certainly help add runs to the scoreboard, and hopefully W's to the schedule.  This speedy base running will also come in handy while attempting sacrifice bunts.  Pollock says that while sac bunting is not "automatic every time a lead off runner reaches first base…it does have a place in our offense."
Pollock hopes to further PC's chances at a conference title with the use of "role ball." He strives to teach his players how to determine the right hit for each offensive situation.  This includes the ability to drive the ball into holes and execute successful hit and runs.  While PC is ranked last in the South Division of the Big South, if we can improve on our 2012 ERA (earned run average) of 5.34, maintain our great fielding percentage of .966, and increase our batting average of .277, we can go far.
Unfortunately, Coach Pollock was not quite ready to disclose his projected lineup for the upcoming season, but fans can see for themselves on February 15th when play begins.   However, our first of 18 home games isn't until March 1, when we begin conference play against High Point.  Let's go out and support our Blue Hose as they battle the Panthers!