Had Us Scared For A Second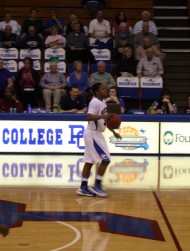 Wednesday night, February 6th, Blue Hose men played against Gardner-Webb's Running Bulldogs.  Men Blue Hose have won 2 out of 7 Big South Conference games while Gardner-Webb has won 5 out of 4.
The Bulldogs won the tip off and scored the first basket on the board. When Gardner-Webb fouled, Eric Washington (So) was able to get the Blue Hose two points.  Khalid Mutakabbir (Sr) shot a 3 pointer giving the Blue Hose a lead of 5-4.  Offense and defense for the Blue Hose was great.  They had already gained a four point lead with sixteen minutes on the clock.  Then the running Bulldogs put on their track shoes.  They strengthened their defense and gained a two point lead over the Blue Hose.
With ten minutes on the clock, Mutakabbir brought the score to a tie, 19-19. Gardner-Webb was able to take the lead again because of a Blue Hose foul, but Washington wasn't standing for that.  His 2 pointer gave the Blue Hose a point lead on the board.  Ryan Hargrave (Sr) helped to secure the Blue Hose's lead with a 3 pointer.  At the end of the half, Blue Hose lead, 32-29. PC and Gardner-Webb were tied for fouls at five fouls each.
Gardner-Webb scored the first basket of the second half.  They soon gained a point lead on the Blue Hose.  The Blue Hose held their defense, maintaining great rebounds.  Unfortunately, Gardner-Webb was able to overtake the Blue Hose defense and gained a five point lead, 41-36.   But then the Blue Hose put some fire in their game.  Mutakabbir's free throws, brought the Blue Hose back within two points of Gardner-Webb, 43-41.  With seven minutes remaining in the game, the score was 49-43.
Jordan Downing's (So.) 3 pointer helped to close the gap in the score.   Because of Mutakabbir, and Joshua Clyburn's (Jr) 2 pointer the Blue Hose were put back into the lead, while McTavish's 2 pointer brought the Blue Hose a lead of three points.   With 40 seconds left on the clock, the fans were on the edge of their seats, hoping that the Blue Hose would be able to maintain their 55-54 lead. Once again, McTavish's 2 pointer brought the Blue Hose a three point lead.  Fans no longer needed to worry, the men Blue Hose win the game.  The final score: 57-54.  Eric Washington held the game points with a total of 13 points.
Don't forget to support your Blue Hose! Men will be hosting another home game on Wednesday, February 13th, against Coastal Carolina.  PC Women will be playing at home again on Thursday, February 21st, against Campbell.  Go Blue Hose!