Missed It By That Much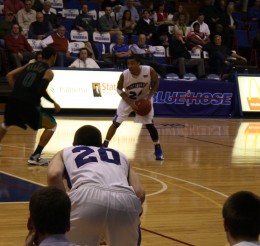 Wednesday, February 13th, our Blue Hose played Coastal Carolina's Chanticleers.
Starting line up for the Blue Hose included: Junior Joshua Clyburn #1, Sophomore Ryan McTavish #20, Sophomore Jordan Downing #21, Senior Khalid Mutakabbir #24, & Sophomore Eric Washington #33.  The game started off great with the Blue Hose winning the tip off.  Unfortunately, when the Chanticleers grabbed the ball, they scored the first basket of the game.
The first ten minutes were intense.  The Chanticleers and the Blue Hose were keeping the score tied.  Then Coastal took the lead, but our Blue Hose would not allow the score gap to widen by more than nine points.  The Blue Hose kept their hands up and had great rebounds.  The score with ten minutes left in the first half was 21-15, Chanticleers.
Chanticleers offense was overpowering our defense.  They had this uncanny ability to make all of the three pointers they shot.  Still, the score gap never widened more than nine points.  There was hope still for the Blue Hose.  Fans were hoping the Blue Hose would close the score gap.  Mutakabbir answered the fans hope with a slam dunk which tied the game.  Unfortunately, Coastal Carolina scored again before the end of the half.  At the end of the half, score was 28-26, Coastal.  McTavish racked up the most game points for the half, with a total of 8.
During the beginning of the second half, Coastal once again scored the first basket.  The Blue Hose, especially Clyburn, were doing great with rebounds.  For most of the half, Coastal Carolina maintained the lead.  Rest assured, the Blue Hose were close behind the Chanticleers.  With the second half half way over, the score was 43-40 Coastal.
With three minutes left on the clock, Blue Hose were down by 4.  The fouls were racking up.  McTavish fouled out with 24.6 seconds left on the clock.  The Blue Hose put forth great effort but fell to the Chanticleers.  Final score: 60-53, Chanticleers.  Most game points go to Mutakabbir.  He had two 3 pointers, three 2 pointers, and two free throws, for a total of 14 points.  McTavish was close behind with one 3 pointer, three 2 pointers, and three free throws, for a total of 12 points.
Never forget to support your Blue Hose.  Saturday, February 16th, the men will be playing Winthrop at 7pm.  It's a Red out! Don't forget to wear your red clothes.  Women play Campbell on Thursday, February 21st, at 7pm.  Gotta love those Blue Hose!!