No Downing? No Problem.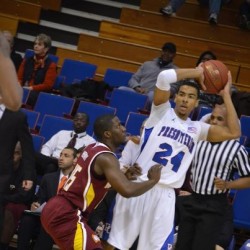 With redshirt sophomore standout Jordan Downing forced to sit out from action due to a concussion, Coach Greg Nibert was forced to look to his bench Saturday night when the Blue Hose invited Winthrop to Templeton Arena. PC fell short to the Eagles earlier in the season in Rock Hill 62-51. However, things went our way this time around and thanks to a strong defensive effort and great contributions from the bench, PC took down the Eagles 64-57 to avenge the loss on January 16th.
The Blue Hose drew first blood when Eric Washington drilled a 3 pointer from the left wing to give PC the early 3-0 lead. The sophomore from Columbia made big plays all night long accounting for 11 points, 5 rebounds, 8 assist, and 2 steals. However, Washington wasn't the only Blue Hose that stepped up Saturday night. Freshman Austin Anderson, who started for the injured Downing, added a 5 point and 5 assist performance behind a solid defensive effort as well.
PC never trailed the Eagles Saturday night and every time Winthrop appeared to be closing in, the Blue Hose would respond and extend the lead. One of the biggest runs in the game came late in the first half with PC scoring 9 straight points before heading into halftime with a 35-28 advantage.  "I couldn't be more proud of my team tonight," said Coach Nibert following Saturday night's win. "We set out tonight to play well defensively and we accomplished that goal." After playing a big role in Coastal Carolina's struggles in the post on Wednesday night, William Truss came up big for the Blue Hose time after time against the Eagles, none bigger than his 2 blocks on back-to-back Eagle possessions late in the second half that helped PC hold off a late Winthrop rally.
PC (7-20, 4-9) was able to limit the productivity of Winthrop scoring leaders Gideon Gamble and Derrick Henry holding them to 5 and 12 points respectively; however, Joab Jerome kept the Eagles' chances alive with a game-high 20 points. The Eagles (11-14, 5-8) shot 53.8% from the floor and were 85.7% from the charity strike while PC was 53.5% from the floor and 75.0% from the free throw line. The Blue Hose out rebounded Winthrop 21-19, had 6 steals while the Eagles accounted for 2, and also took the advantage in the assist department 17-6.
The Blue Hose played with great team chemistry when they took the floor Saturday night and got contributions from the bench including 16 points combined from Ryan Hargrave, William Truss and Mac Lake. Hargrave, the 6-6 senior from Taylorsville, North Carolina, received praise from his head coach for his sacrifice. He pitched in 7 points and 3 rebounds despite playing through a grueling lower back injury. Khalid Mutakabbir was named the Hardees's Player of the Game for the second straight game and led PC with 15 points. "Everyone contributed and it was a complete team win for us tonight." Coach Nibert said.
Coach Nibert now prepares his guys for a road trip to Charleston Southern where they will get a second shot at taking down one of the hottest three point shooting squads in the entire country on Tuesday, February 19th. When Charleston Southern came to Templeton earlier this season, they dropped a staggering 15 three pointers on PC en route to a 79-59 loss. With Downing likely to miss Tuesday's game as well, Nibert will again look for his team to step up and put together another good defensive performance. "We haven't played two good defensive games
back-to-back following a win all season. We are going to have to defend the three better and play better defensively overall to take down Charleston Southern next week," Nibert said.
PC will definitely have its hands full with Saah Nimley, who scorched us for 26 points back on January 23. With Downing out of the equation, Anderson, Washington and the rest of the crew will again be called upon to step up and lead the Blue Hose to another hard earned team victory.
Photo courtesy of Jada Suber