Behind the Curtain: The Great Chef Goodwin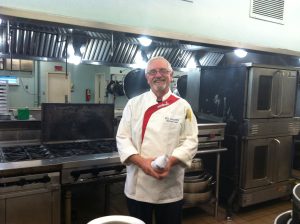 For all of the students and faculty of Presbyterian College who have ever wondered about the secret ingredient of Greenville Dining Hall's success here it is: Chef Neil Goodwin. As the executive chef of the beloved campus eatery Chef Neil is the man behind the curtain working tirelessly to grant the numerous dining desires of our school's complex palate. Chef Goodwin boasts 20 years of culinary experience with two of those years spent here at PC.  His career began in Briton, England where he catered and became the general manager of hotels until he was able to buy his own restaurant. In fact, he owns two: Mango Garden Bar and Bistro and Stonewalls, both of which reside in the Caribbean. Chef Goodwin has been cooking since childhood and is self-taught in his field.
Besides his expertise in the culinary arts he is also quite an effective business man.  It is a difficult task to create meals that please both the students' tastes and the school administration's budget, but luckily for us, Chef Neil enjoys a challenge. On the topic of food prices Goodwin had this to say: "Food doesn't have to be expensive to be good, it just has to be prepared the right way." Every meal is an experiment and a lesson. Just as every PC student applies themselves to their education, so does our chef try to learn from the reactions to every dish about how to best meet the school's needs. Although most dishes are received well by the campus, some meals flop, and when this happens it is up to him to figure out why and how to do better in the future. Chef Goodwin is proud of the flexibility of his staff and how they are "willing to adapt to suit the people we cook for." Goodwin asserts that he avoids using frozen produce in the meals prepared at GDH. Whenever possible he tries to use vegetables purchased from the PC organic garden. Such practices not only save the school money but also benefit the environment. One of the most challenging things about cooking at PC is providing foreign students with a pleasant and familiar eating experience. The international line in GDH provides foreign students with a taste of home while offering the rest of the student body the chance to try something new. Chef Goodwin enjoys cooking for this line because it is fun and allows him to experiment with fresh ideas.
Despite being a man well-traveled and well versed in the exotic tastes of the world, he has a special appreciation for the classics. When asked what his favorite dish was he replied smilingly "I love meatloaf. I think we make a good meatloaf here." Someday soon a table will be set up at the dining hall where the Chef will be sitting to accept comments from the students. Chef Goodwin is always open to suggestions so if you have any comments or ideas feel free to come by and share them during this event.
Photograph courtesy of Amber Allen