How to Win the Housing Lottery!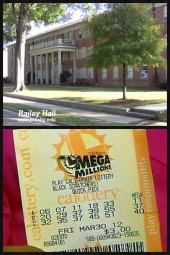 Presbyterian College features 11 community halls, 9 Scottish Arms apartments, and 15 townhouses that together house over 90% of the students at the college. For men, there is Georgia Hall. For women, there is Smyth, Grotnes, Clinton, Laurens, and Belk. Additionally, we have the coeducational facilities of Barron, Bailey, Reynolds, Spradley, and CIH. Having 25 different facilities, not to mention the fraternity houses, there seems to be enough housing for the 1200 students (50% male, 50% female) who attend PC. Unfortunately, being able to fit students in our community is not the issue. The issue occurs when freshman become rising sophomores and no longer want to live in freshman dormitories or when juniors are now rising seniors and want senior housing. Another conflict occurs when some housing options require an application such as CIH, the "Nest", and single rooms of various dorms. The only way to avoid these problems is to win the lottery!
Lottery numbers are assigned randomly through a computer program that accounts for each student's acquired credit hours including hours signed up for during spring semester. Ideally, this system prioritizes choices based on class (seniors first, freshman last). Bonus hours are also assigned to students who have obtained a 3.29 or above GPA. Tier numbers 1-13 indicate your rank in terms of that lottery number. The good thing about the PC lottery compared to the Jackpot is that your chance of winning your dream housing arrangement is 1 in 92 in the worst case.
Around April, you should be able to view your lottery number on Bannerweb under the student tab.  For the 2013-2014 school year, the housing lottery will occur on April 16th and 17th in the Springs Campus Center Gym. Be prepared for the long lines and always bring roommates and suitemates if necessary. The trick is to be placed in line with the roommate who obtains the best lottery number. If, for any reason, you do not have a roommate, you should think about summiting an application to request an International Exchange Student Roommate and/or an incoming transfer or freshman student. It's always nice to have returning students welcome new students and potentially gain awareness of what being a part of our PC family is all about!
Good Luck!