Five Blue Hose Conclude Collegiate Career in South Carolina All Star Bowl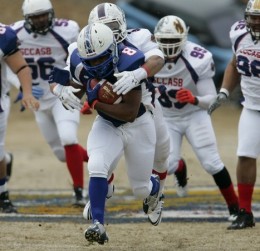 With their college days almost behind them, five PC football players took to the field for one last time at the collegiate level on Saturday at the South Carolina College All Star Bowl held at North Greenville University. Under the instruction of former Clemson head coach Danny Ford, Michael Ruff, Lance Byrd, Anderico Bailey, Patrick Morgano, and Xavier Boatwright joined players from Newberry, Furman, Clemson, Gardner-Webb, North Greenville, and Wofford to form the upstate squad. The upstate team took on the Low country made up of South Carolina, Coastal Carolina, the Citadel, Charleston Southern, Benedict College and South Carolina State University and were coached by former South Carolina State coach Willie Jefferies.
The All Star game, which is in its inaugural year, supports Meals on Wheels and gives regional college football players that played high school football in South Carolina or played for an institution in South Carolina that has a football program. The game was broadcast in Georgia, South Carolina and North Carolina. Local football celebrities such as Heisman winner and Gamecock legend George Rogers, former Clemson QB Woody Dantzler, who became the 1st Quarterback to throw for over 2,000 yards and rush for over 1,000 yards during a season back in 2001, "The voice of the Gamecocks" Todd Ellis as well as University of Georgia head coach Mark Ricth among others were in attendance.
The Upstate team proved to be too much for the low country and lead from wire to wire knocking off Jefferies team by a score of 23-10. Presbyterian was well represented in the contest and was led by Lance Byrd, who led the day in rushing with 48 yards on 17 carries. The upstate team also received some solid contributions from Patrick Morgano who was a factor on special teams and drilled a 30 yard field goal in the first half to give the Upstate the 10-7 advantage.  After the Morgano field goal, the Upstate never trailed in the game again.
Upstate was led by Newberry quarterback Brian Ehrlich who was 5-14 on passing attempts for the day. While the low country was led by South Carolina QB Seth Strickland who was the Offensive MVP accounting for 93 yards on 11-15 passing. Both teams were able to put together impressive drives despite only having two days of practice together.
With football likely in the rear view mirror, it is now time for many of these gentlemen to begin a new chapter in their life. For PC wide out Michael Ruff who finished his Political Science degree in December, he has already begun this transition to life after football. The senior, who is originally from New York, now resides in Ohio and has a job working in Corrections.
Specialist Patrick Morgano will graduate with a degree in Business Management and has plans to marry PC student Jill McNair the week after graduation. The Greenville, SC native already has a job offer from Wilson Trucking Corporation. "I'm going to miss the PC community. It has been a great four years of my life and I have enjoyed being a part of PC football." Said Morgano.
Lance Byrd, also a Business Management major, lead the Blue Hose in rushing this past season. The running back from Jacksonville, Florida hopes to return to Florida and find a job in his hometown after graduation. "I'm going to miss my brothers on the football team. We went through a lot together which only made us closer." He said.
Anderico Bailey, roommate of Lance Byrd, hopes to continue his football playing days at the next level. With scouts from the NFL, CFL and AFL in attendance for the game, he hopes he caught the attention of a pro scout. If not, the Sociology major hopes to find a job working in Social Services. Like Byrd, Anderico points out he will definitely miss his days at PC and the friendships he made through playing football.
Redshirt senior Xavier Boatwright played a significant role Saturday in the Upstate's solid defensive performance. The defensive end from Manning, SC is Biology major and, like his aforementioned teammates, will be missed as the Blue Hose prepare for the 2013 campaign. PC wishes the best of luck to these gentlemen and the entire class of 2013 as they prepare to embark on the next phase of their lives.
Photograph courtesy of John Byrum