YoCup Arrives in Clinton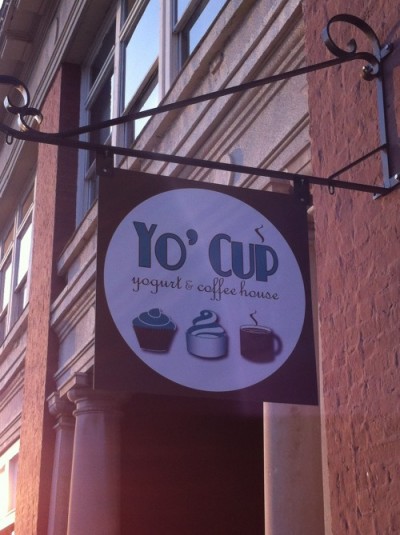 There are only too few places to eat and hang out with friends in downtown Clinton. However, with businesses like Sweet Frogs, Orange Leaf, Red Mango, and TCBY popping up everywhere, it's easy to say that do it yourself fro-yo is really trending. Up until now, however, Clinton has lacked such an eatery. But don't be fooled by its size, YoCup is just as good as its competitors.
With a wall and counter of toppings, and four different flavors that change every one to two weeks, YoCup offers a very customizable fro-yo experience. Each cup is priced by the ounce (45 cents per ounce), with the average cup coming out to be around 4 or five dollars, although it really depends on how much you get. The topping choices range from the classic cherries, sprinkles, and chocolate chips, to more interesting things like Cinnamon Toast Crunch cereal and treats like Kit Kat bars. And with delicious flavors like salted caramel pretzel, dark chocolate, and watermelon sorbet, there's usually something for everyone.
One of the features that sets YoCup apart from many of its competitors is that it also offers coffee and a variety of pastries. The interior of the building has a quaint, cozy café feel to it, with the breads and pastries (including cupcakes) all on display behind the counter. Like the frozen yogurt in the back, there are many different confections to choose from, including many healthy low carb and gluten free options. Breakfast is also served at YoCup, and the café offers foods like bagels and scones to go with your morning coffee.
Aside from delicious food, YoCup also brings a unique atmosphere to Clinton. When asked what YoCup offers Clinton, PC senior and YoCup employee Chris Fairfax said he believes that "YoCup is a place where students can go to get legitimate coffee or do some studying." He goes on to explain that the store has free accessible wi-fi, so students are welcome to come grab a cup of coffee or fro-yo, find a seat, and study or do some homework. Likewise, YoCup is a great place for friends to meet up. It's so close to campus, anyone could walk or ride their bike there, and it has plenty of indoor and outdoor seating: a great place for a get-together with friends after a long day of classes.
YoCup is not without its flaws however. Its selection of frozen yogurt is small; only four flavors a week to choose from. And I have also heard from more than one person that the yogurt often comes out "runny" as though its been slightly melted already.
All and all, however, I believe YoCup will be a very beloved addition to the Clinton area. If you're looking for something good to eat, or just a place to chill after classes, I highly recommend YoCup.