Renovations to PC's Trademark Building Coming Soon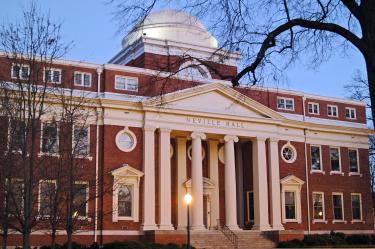 Every student in the last century of PC has walked through the iconic domed building known as Neville Hall or may have even had a morning class on its shady steps.  Neville is one of PC's oldest buildings, and has filled many roles for this campus, such as an administration building and a meeting place for organizations. Today it is the home to the History, Religion and Philosophy, English, and Foreign Language departments.  It is also listed on the National Register of Historic Places.
One of the campus's most beloved buildings is going to undergo renovations and possible expansion in the next year.  The administration is currently in the initial stages of this project, and has hired Craig Gaulden Davis, an architect firm in Greenville.  President Dr. Lilly, in his presidential blog stated in regard to the building design, "The leadership team met with the consultants who are working on the designs for renovating Neville. My key concern is that Neville maintain its iconic presence on campus. Three plans were reviewed. The team liked one, but requested that some additional analysis be done to provide other options."
Provost Dr. Raber said that the administration is just getting started with project and the idea is to figure out the best way for Neville can serve us in the future.  The administration is currently in meetings with Craig Gaulden Davis and is meeting with the department chairs and staff of Neville to brainstorm what should go in Neville.
Dr. Raber clarified, "We are not much further along than that.  And I want to emphasize that we are at the initial stages of planning this.  We don't have any designs or schematics we can take out and present to people.  We don't have an overall plan of how we will move departments around in the building.  We haven't decided were classrooms might be; we are really still at that initial stage."
Mrs. Maddux, Vice President of Finance and Administration, added that one of the things PC wants to do is to restore the rotunda so that students can see the top of the dome when they walk through the first floor of Neville.  She mentioned that the design phase typically takes six to nine months, so the earliest construction would start would probably be next summer.  It would take that much time to do the research the mechanical system and all the architectural options to be able to renovate the building.
Many of the Neville professors are looking forward to the renovations.  Dr. Heiser expressed great enthusiasm for the project and said the administration does need to renovate Neville so it "sparkles like a diamond!"
Renovating PC's most recognizable landmark will be one of the many changes that will take place relatively soon, and will allow students decades from now to call Neville one of their academic homes in their home away from home.