An Appetite for Lust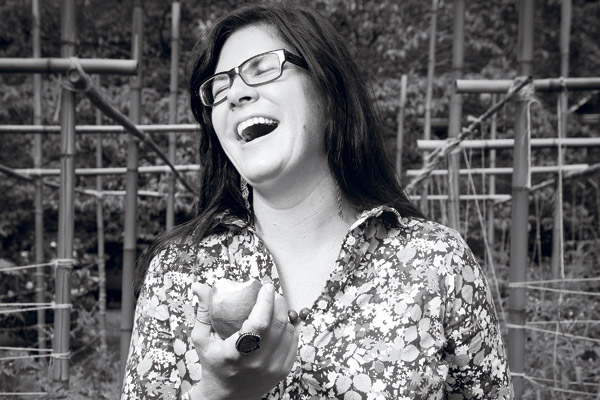 In October, Ashley Warlick, who currently teaches fiction both at the South Carolina Governor's School for the Arts and Humanities and at Queens College in Charlotte, gave a reading from her soon-to-be-published novel many years in the making. In Hunger is based on the life story of Mary Frances Kennedy Fisher, a writer who helped pioneer the genre of nonfiction essay writing on life and food and lust from a woman's perspective. The opening chapter, set in 1930s Hollywood, begins with a powerful scene of dialogue on love at a dinner table between the protagonist, Mary Frances, and her lover, Tim. Over the course of the chapter the intricacies of love and lust are shown to be as delicate as lace and as desperate as a deep gnawing hunger. And in 1930s America, the scandalous nature of Mary Frances and her writings were almost revolutionary in their upfront attitude on being a woman. If the first chapter is as powerful as this, I have high hopes for the rest of Warlick's novel.
Writing a historical fiction novel provided a welcome challenge to Warlick in ways her previous novels had not. Capturing the voice of MFK Fisher was difficult and time-consuming, as Warlick wanted her novel to be true to Fisher's style of prose and approach to passion and food and life. She read solely Fisher's many works to develop a true narrative voice and to understand and develop the other characters as if through Fisher's eyes. After many years of research and dedication, Warlick's prose illustrated the provocative nature of eating—with precision in the descriptions of ice melting on a table, how "the thick rum" feels sliding down a throat, the assortment of meats rendered in such tantalizing detail that I felt almost hungry. This attention to sensory details rings true of Fisher's passion for food. "He thought she liked to do lots of things. She simply liked to laugh, to eat," read Warlick. Novel MFK Fisher is very much like the real MFK Fisher preserved in her original books of Serve It Forth and The Art of Eating and amongst her other published works.
Warlick's inspiration for writing this novel began early on with a shared love of food and of food writing. She read magazines such as Bon Appétit and she "believe[d] in cooking as a creative outlet." In comparison to her writing life, which often consists of long-term projects, cooking is "shorter and more satisfying [to make] something from scratch and [have] it ready in a few hours," she said. Warlick also currently maintains a position as an editor in the Greenville-based food literary magazine Edible Upcountry. So if you missed this powerful reading and also really love reading about food, you should definitely check out Edible Upcountry, which is available both in print and online. Or if you're willing to wait, In Hunger will be sure to provide the passion felt between characters in scenes of dialogue and of sensual descriptions of food and will prove well worth the time and dedication.