Sochi…We Have a Problem(s)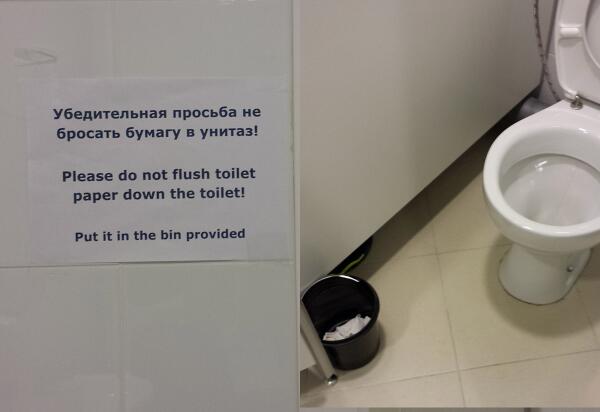 It is undoubtedly true that the Olympics are the most challenging and time consuming athletic event there is, however, Russia was not completely prepared for Sochi 2014.  The unfinished hotels many journalists had to stay in had several issues that ranged from hilarious to catastrophic.
The classic mishap of reservations getting mixed up or even cancelled happened to many reporters.  Some people were forced to double up in rooms.  The rooms were not exactly five stars either.  Many media specialists took to their Twitter accounts to post issues they encountered in their rooms.  When Joerg Reuter arrived to his room that he had booked, he discovered a construction worker taking a nap in his bed.  The hotel staff gave him another room and he discovered a stray dog occupying his sleeping space.
Some journalists have also experienced water problems.  While some rooms did not have working water at all, many reporters snapped photos of yellow and brown water coming out of the faucet.  Let's hope there is plenty of soda and places to buy bottled water.
Journalists really had to tough it out when dealing with their bathrooms.  It was hilarious to find two toilets right next to each other in the same stall, but it was puzzling when there were signs asking guests not to flush toilet paper down the commodes.  The water temperatures were also not consistent.  There were multiple showers that did not have hot water and some that only had scalding hot water.
The teams of media coverers have had to develop a black market in the hotel hallways.  Many rooms were missing the basic necessities such as light bulbs, room doorknobs, pillows, and curtains.  People were soon trading with other people for these objects, objects we all take for granted.  So be thankful for working doorknobs that allow you to sleep in a room with a shut door.  This journalist, Mike Wise, was not so lucky.
Outside of the hotels, there are hundreds of stray dogs roaming the streets.  Most dogs are relatively friendly to humans, but it is risky if any of the dogs end up displaying aggressive behavior.  Many journalists were shocked and thought it inhumane when they witnessed dogs being put down in the streets of Sochi.
Perhaps the most alarming aspect about these hotels rooms was the possibility of Russian officials spying on guests by hidden cameras in the shower heads.  Deputy Prime Minister, Dmitry Kozak, stated, "We have surveillance video from the hotels that shows people turn on the shower, direct the nozzle at the wall and then leave the room for the whole day." He believed that Westerners were trying to make Russia as a while look bad during the Winter Olympics.   Russian officials claim that the cameras were only used for the construction and cleaning stages of the hotel rooms.  This quote was most likely taken out of context, but it is still alarming and shocking to hear.
The athletes fared better than the journalists when it came to hotels.  There hotels were considered to be mostly finished.  Although Johnny Quinn, member of the USA bobsledding team, had to physically break down his bathroom door because he was locked in.
Despite these hotel problems, the Olympic Games have run rather smoothly.  The Opening Ceremony was spectacular and the weather has been in good condition.