Piano Clinic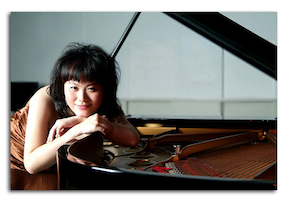 Area music lovers will have a unique opportunity to hear one of the top classical pianists in the world when Ang Li performs as part of the Presbyterian College Piano Clinic set for March 21-22.
The 2014 clinic marks the PC Department of Music's 30th anniversary of offering master classes with PC piano faculty, a guest artist recital and lectures for students in grades 7-12, teachers, auditors and parents.
Li, ranked by the 2009 Cliburn Competition as one of the top 30 pianists in the world, will be in concert March 21 in Edmunds Hall at 7:30 p.m. as part of the two-day clinic. She will return to the stage on March 22 as the keynote lecturer and will conduct selected students in a master class.
"We are thrilled to have Ang Li as our guest artist," said Dr. Karen Wisser Buckland, associate professor of music and director of keyboard studies at PC.
"This is a wonderful opportunity to see and hear an incredibly talented pianist—for our PC community, clinic participants and area music lovers," Buckland said.
Li has performed at Carnegie Hall and the Lincoln Center for the Performing Arts in New York, the John F. Kennedy Center for the Performing Arts in Washington, D.C., the National Arts Centre in Ottawa, Ruïnekerk of Bergen in the Netherlands, and the National Center for the Performing Arts in China, among others.
"Ang Li in Concert: Classical, Progressive and Modern" will include full-length performances of Chopin, Brahms and Liszt. Other frequent concert additions include works by Mozart, Beethoven, Ravel and Schubert.
The public may attend the March 21 recital and reception by purchasing a $10 ticket through the PC Department of Music.
The clinic is open to students in grades 7-12 who have a minimum of four years piano study and repertoire on an intermediate-advanced level.
As part of the Friday master classes, students will present a memorized piano solo at the recital level, and will receive performance critiques by PC piano faculty. A Saturday recital master class with Ang Li is by audition. Students must submit a recording by Feb. 28 to be eligible for the class.
Also on Saturday, a student discussion will be led by Josh Harrington, a junior music education major from Lexington, S.C., and Evan Haney, a freshman music major from Buffalo, S.C. A lecture and a master class with Ang Li is featured as well as a recital by chosen participants from the Friday Master's classes, the presentation of clinic certificates and a group photo.
Clinic registration for students is $40; teachers and auditors, $30; and parents, $15 each. Daily rates (one day participation) are $45 for students, teachers and auditors; and $10 per parent. The general public may purchase a $10 ticket to attend  Li's March 21 performance; PC students, faculty and staff may attend free by showing a PC ID.
Full details of the clinic are available on the college website athttp://www.presby.edu/music/2014-piano-clinic/. Buckland can be reached at864.833.8467 or by email at [email protected].