Last Southern Circuit film for this year 'The New Public' on April 10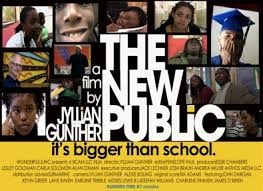 Presbyterian College will present "The New Public" with filmmaker Jyllian Gunther on Thursday, April 10, as part of the South Arts Southern Circuit Tour of Independent Filmmaker. The screening begins at 7 p.m.in Harrington-Peachtree 214. Following a screening of the film, "The New Public," Gunther and the audience will engage in a discussion about the film and her work as a filmmaker. The film is free and open to the public. Educators and student majoring in education are encouraged to attend.
In 2006, a former DJ and point-guard turned first-time principal Dr. James O'Brien opened a small public high school in Bedford-Stuyvesant, Brooklyn, where a third of the residents live below the poverty line and the graduation rate is 40%. With infectious optimism, O'Brien and his staff of eight undertake a new and unconventional approach––emphasizing strong individual support and arts-based nontraditional instruction.
Initially, the buzz from the community was that this was a dream come true. But conflicts arose when old realities surfaced. Filmed over four years, "The New Public" goes in and out of the classroom to follow the journey of students, parents and educators striving to reconcile idealism with reality and make a difference in the futures of young people whose lives are stark representations of our country's education and opportunity gaps. Through the prism of one inner-city school, we witness complexities faced by urban public schools and communities everywhere.
Jyllian Gunter is an Emmy award-winning writer, producer, and director. Her critically acclaimed first documentary, "Pullout," was an official selection at numerous festivals. She won an Emmy for the PBS educational PSA series, "One Way." For NPR's "This American Life," she was reporter/co-producer on the episode 'Kid Politics.' She has worked for the past 15 years as a freelance producer/writer for WEtv, AMC, IFC Nickelodeon, Oxygen, The N, and more.
The Southern Circuit Tour of Independent Filmmakers is a program of South Arts. Southern Circuit screenings are funded in part by a grant from South Arts in partnership with the National Endowment for the Arts. South Arts is a nonprofit regional arts organization founded in 1975 to build on the South's unique heritage and enhance the public value of the arts.
For more information, contact Dr. Molly McGehee at 833.8356.