NFL Draft Day: Who will be number one?
In a few weeks, May 8-10, the 79th annual NFL draft will take place, welcoming a new draft of young players. At this draft, a few select young men will see their boyhood dream come true: being drafted into the NFL.
Out of those few young men, even fewer will be taken in the first round, and only one will be taken number 1, the most prestigious pick. Currently the Houston Texans hold the number one draft pick after finishing last year with a record of 2-14.
Being chosen in the first round comes with tons of added pressure. You are normally expected to come in and perform right away. There is no room for mistakes or time to become a professional.
Sometimes that works out well for the players and their teams and other times it doesn't work out. Teams do luck out and get players who are able to play right away at a high level.
Sometimes, though, they are not so lucky, and the their picks never quite live up to their potential due to a number of reasons: injury, trouble with the law or just being a good college player but not NFL player.
The most recent of these 'bust" are players like Vince Young or Matt Lienart, but the most famous one being Ryan Leaf, who was taking over for the legendary Peyton Manning.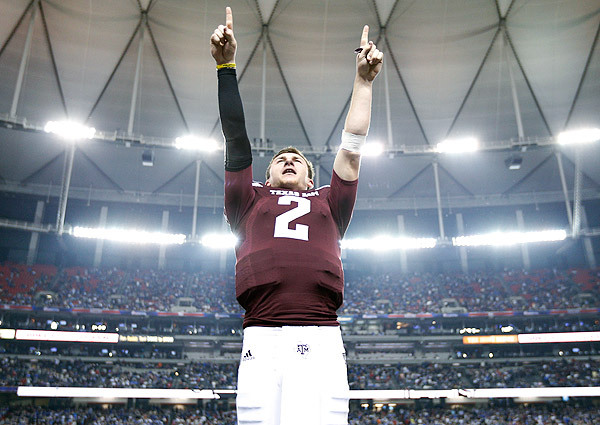 If a player is taken number one overall, there is definitely no time to transition and are expected to be an all-star from the beginning. Sometimes this added pressure creates diamonds, and other times busts players. Out of all of the NFL drafts only 13 number one picks have went on to the Hall of Fame, such as Troy Aikman, John Elway and OJ Simpson. That leaves 66 who weren't. So with those odds, does a team really even want to take this chance at number one overall pick? Well, that depends on who you ask.
So the question is who should the Houston Texans select with their number one draft pick? Well that depends on who you ask. South Carolina fans will tell you that it's an easy choice: obviously Jadeveon Clowney. Clowney is an extremely talented defensive end from the University of South Carolina, and he helped make USC's defense make a statement in a talented SEC division.
But most people from the state of Texas laugh at that thought and tell you Houston should pick a good ole boy from Texas and chose Johnny Manziel. Manziel destroyed defenses in both his freshman and sophomore year, where he won the Heisman, the first time ever as a freshman.
But in either situations it's more thinking with the heart than with the brain, which can lead to trouble sometimes.
It really depends on whom you ask, because different draft boards have the Texans drafting different people. Some NFL draft experts say Manziel will go to the Texans, others say Clowney and others say Blake Bortles, a quarterback from UCF.
But to the reader, I am here to tell you Clowney isn't the right choice and neither is Manziel. Honestly I don't believe there is a player who is worth the number one overall pick. Why is that and what should the Texans do?
Well first off, regardless of last year's record, Texans defense is not an issue, especially the defensive line play, led by former defensive player of the year, J.J Wyatt. So for me personally, that leaves question about Clowney, and why he should be chosen number one. My questions and issues with taking Clowney are work ethic and Napoleon Syndrome. Throughout high school and college there were always issues regarding Clowney's work ethic. Which leaves to the question, how will that transition into the pros? Everyone is talented and they work hard, so would he be able to dominant NFL offensive lines? Honestly I do not think he could.
But let's look at another problem I believe he will face, even if he does develop a good work ethic. It is the problem of egotism. All of his football career, from high school to his college days at South Carolina, he was consider the alpha dog on the defense, definitely the best defensive player on the team. Some even considered he was the best player on the team. So if the Texans did draft him, would he be the best defensive player on the team? Absolutely not, he would be on a team with the extremely talented J.J. Wyatt. He wouldn't even be the best defensive lineman. Furthermore, that makes him not the best player on the team either, not even second best, with players like Adrian Foster or Andre Johnson. This is where the problem arises, could he handle that? Could Clowney handle not being the best player on the team, not even the best defensive lineman? After being the best player for so long, could he handle it on a psychological basis? Honestly, I think not. I believe it would make him feel lesser than he is and hurt him and his potential. Even though I believe he will be a "bust," he still has potential, and I think that would be crushed by not being the best. So no, I don't believe Clowney is the right pick.
But what does the Texans need? They need offense, preferably a quarterback. So who are the top quarterbacks available? Johnny Manziel, Teddy Bridgewater and Blake Bortless are supposedly the best quarterbacks available, top ten picks. The other top offensive players available are Jake Mathews and Sammy Watkins.
So I will knock off the easy decisions first. Sammy Watkins, is a dynamic receiver, but comes with baggage. His baggage comes with his time he missed because of drug issues, and do you want to bring that into a team? Plus the Texans had receivers; Andre Johnson (future Hall of Famer) and Deandre Hopkins. They just didn't have anybody to get them the ball. So knock Watkins off the list.
Jake Mathews, however, is a monster offensive line from Texas Am where he spent a career blocking from Johnny Manziel. Honestly though, does a team really want to spend a number one overall pick on an offensive lineman. Even though the Chiefs did it last year, I really do not think they want too, especially with new coach Bill O'Brien. I would believe he wanted to draft a player he can build with. I do believe Jake Mathews would be the safest pick, because he has the most potential to not be a bust. Even though he is the safest, he still isn't the right choice.
Now let's get to the quarterbacks. Blake Bortless is a talented quarterback from UCF. He tore up the college scene last year, but that was the only year anyone has ever heard of him. So really he just have one year of actually "good" tape of him. Although this tape is incredible and makes him look like a future all-star, is just one tape trustworthy? Maybe or maybe not, but according to history, one year of tape usually isn't enough. So Blake is gone from the list of possible number one picks.
Then there's Teddy Bustwater…I mean Bridgewater. He was considered the number one quarterback coming out at the beginning of last year and to some still is. But a good, but rather disappointing season brought some into doubt. Me, I am one of those doubters. It is just his pro day wasn't incredible and who did he really beat in college? Well, okay, he did beat Florida, once. Besides them, he hasn't beaten anyone that incredible, never played against a dominating defense like that of Alabama or Auburn. So is his play that trustworthy? Not to me. Although he could end up being great, I just don't feel he's worthy of a first pick in the draft. He could be a good NFL quarterback, just not a great one.
But if you are drafted as the number one pick in the draft, average isn't enough; you are supposed to be great. Next up is Johnny Manziel, my favorite player. Which pains me to say, he has bust written all over him, with all of his flaws. But with flaws comes wicked athletic ability. Could he be great? Definitely. Will he? Doubtful? Granted, I would love to see him come in and light up the NFL, just like he did college. I just don't see it happening. He does have an incredible arm, a will to win, good pocket presence and nice mobility.
He also has poor size, immaturity and a drinking problem. His size technically wouldn't be a problem if he would stay in the pocket, but he doesn't. He runs and being a smaller size like he is, he will get broken in the mean, bone crushing NFL. Immaturity and drinking problems go hand in hand. I have heard he is working on his drinking problem, but do you want your quarterback to be a drunk, even if he's recovering? No. He is supposed to lead your team and be the face of it, a hard task if you are a drunken kid. Also, I am not under the belief the running quarterback is here to stay, in the NFL. So overall I just don't see him as a future MVP and leader of a franchise.
Overall, the chance of getting a future legend at the number one overall pick is VERY slim. Think: only 13 of them are in the Hall of Fame and out of that 13, 3 are quarterbacks. So drafting a future hall of fame quarterback number one is slim. Consider also Brett Farve was taken in second round with the first pick, and Tom Brady was taken in the sixth round.
So what are the Texans to do? It is pretty simple. They need to trade. They can trade that pick for a team with a later first round pick and one of their back up quarterbacks. Let me explain. They can have in most cases a good backup quarterback, or a potential starter. With that later pick they can either draft a quarterback who's available or get him a toy (a weapon). Then, in turn, get a quarterback with their second round pick.
I would say A.J McArron. He is the most NFL skilled quarterback, and is a two time national champion, proving he can win. But he needs to sit a season or two before he sees the field, to give him time to mature into greatness. Also, for insurance purposes they could draft another quarterback in later rounds like Aron Murray or Taj Boyd.
So here is what the Texans need to do. Trade their first round pick. It is the safest decision in my mind, because there is no one I believe to be a definite number one. Don't take the risk.
The draft is not that far away. Soon we will see teams make great or terrible decisions. Players will get drafted early and perform like expected, some will get drafted earlier and never live up to potential. Even some will be taken in later rounds and become household names. All I can say with certainty is we never know what to expect.