A Love Letter to PC: Dr. Molly McGehee, Associate Professor of English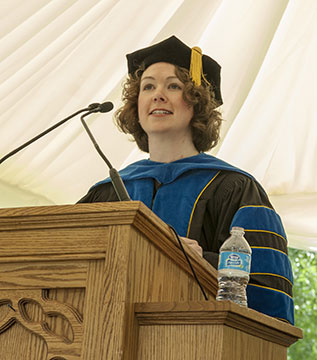 A Love Letter
Dr. Molly McGehee, Associate Professor of English
March 31, 2014
Dearest PC,
After six years, our time together is drawing to a close. And as you already know, it's not you…it's me. In a couple of months I will start on a new adventure at a new job in a new town surrounded by new people, an opportunity that neither my husband nor I could pass up. Yet the thought of leaving you brings a lump to my throat.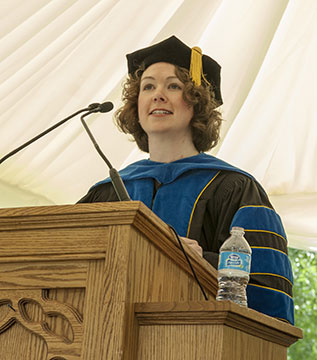 How do I begin to thank you for providing me with a job that has been downright fun, a job in which I have been able to teach what I want to teach, in which I got to take students on trips to Paris and throughout the U.S. South, in which I got to play a role (however small) in transforming students into critical thinkers and global citizens, in which I was able to serve in leadership roles early in my career that will continue to shape me into the leader that I would like to become? How do I thank colleagues for becoming best friends, for grieving with me after my father's death and celebrating with me following my son's birth, for continuously supporting my ideas and efforts, for telling me when it was time to take a break? How do I say thank you to my students for showing up, for being willing to talk about challenging topics, for being genuinely committed to changing the world, for being funny and bright and energetic and quirky and honest? How do I say thank you to the multiple staff members and administrators, current and former, who have given their time and energy to helping me become a better teacher and servant-leader and to helping keep PC going in the face of significant challenges?
Much like those graduating this spring, I leave you with much more than I arrived with several fall semesters ago. Thank you. For all of it, I am grateful.
As I go, I would like to share one final thought regarding a lesson I learned during my time with you. Someone told me a couple of years ago that I am "too nice" to ever be effective as a leader. That comment has stuck with me not because it ticked me off (it did) but because it has proven to be absolutely and fundamentally incorrect. No, it doesn't pay to be a pushover or to be naïve, to be weak or optimistic to the point of delusion. But it does pay to be humble and kind; to say "please" and "thank you"; to listen and listen well; to laugh with and not at; to be inclusive rather than exclusive; to bring people together, rather than pushing them apart; to remember that we are flawed human beings, not cogs in a machine, and to treat one another with compassion and forgiveness when flaws are exposed.
Cheesy or maudlin? Maybe. But all I know is that as I exit the hallowed halls of Neville, I walk away with lifelong friends, lifelong connections to a multitude of students, and sustaining memories of exhilarating and enriching teaching and travel experiences. Seems to me that being "too nice" has paid off…royally.
With love, affection, and gratitude for such riches,
DrM