PC vs. Bluefield
In life very seldom does everything go accordingly or fall into plan. When this happens in the sporting world, we call it a blow-out. A blow out is exactly what happened for the Presbyterian College football team this past weekend, as they beat the Bluefield Rams 69-14. In the process of blowing out the Rams the team also christened the new lights that shinned down on Bailey Memorial Stadium. This game was remarkable in every way from the new lights to the records that were broken.
This was the perfect way to rebound after a lost to the Northern Illinois Huskies and an even better way to start the season at home. Breaking down the game quarter by quarter would be pointless because the only time the game was close was at the coin toss. So instead I will discuss records that were broken. One new record PC set was the amount of points put up, 69. The other record that was broken was the fact PC ran the ball 62 times for 523 yards and scored 7 touchdowns. Oh and did I forget to mention LaQua Mayes' 92 yard run in the 2nd quarter is an Big South all time record. Needless to say PC dominated the game by their stellar rushing, with 2 different guys scoring multiple rushing touchdowns (LaQua Mayes and Blake Roberts). That's not all though because to tag along with Mayes' 161 yards rushing (3rd most in PC division 1 history), Demarcus Rouse also racked up 116 yards and a touchdown on the ground (2nd time in PC division 1 history, 2 players had over 100 yards rushing). Darrel Bridges and redshirt freshman Craig Bryan also scored a touchdown a piece. Like I previously stated, the rushing attack dominated the game.  With that being said from a passing stand point the team looked good as well throwing from over 150 yards and 2 passing touchdowns.
Though just because the offensive line and running backs showed out, doesn't mean the defense didn't as well. The defense held the Rams to only 14 points.  From the sidelines watching the games 3 players showed out from the defensive side; Steve Osondu, Ed Britt and Khari Rosier. Steve Osondu, a freshman, had 8 tackles. Ed Britt was also stellar as he returned a fumble for a touchdown and Khari Rosier was able to make 3 tackles for loss.
1st QuarterMayes, LaQua 10yd  run Td

Roberts, Blake 3yd run TD

2nd QuarterWilson, Daryl 48yd TD rec from McMath

Mayes, LaQua 92yd Td run

Wilson, Daryl 33yd TD rec from McMath

3rd QuarterRoberts, Blake 2yd TD run

Bridges, Darrel 1yd TD run

Britt, Ed 15 yd fumble recovery for TD

Pope, Adrian 1 yard TD run (Bluefield)

4th QuarterBryan, Craig 1yd TD run

Brown, Justin 1yd TD run (Bluefield)

Rouse, Demarcus 55yd TD run
Stats
PC Blue Hose
Passing:Heys McMath             7-8 for 155 yards 2TD

Rushing:LaQua Mayes 13att 161yards  2TD

Demarcus Rouse  11att 117yards  1TD

Darrel Bridges      12att 82yards    1TD

Blake Roberts       9att    61yards   2TD

Craig Bryan          4att    22yards    1TD

Receiving:Daryl Wilson   4rec 94yards  2TD

Devron Glenn  1rec  31 yards

Returning Punts:Tobi Antigah 5 returns for 87 yards
Bluefield Rams
Passing:Ashten Dixon  12-19 192yards
Rushing:Mason Harris   5att  26yards

Adrian Pope                3att  9yards   1TD

Justin Brown  3att  2 yards   1TD

Receiving:David Gianesin   6rec  126 yards
If the score was not enough to prove it, the stats definitely prove PC dominated the whole game.
My players of the game:
Offensive-LaQua Mayes
Defensive-Khari Rosier
Tune in next week for my recap of the Furman and Presbyterian College game. It would be better if you attended though.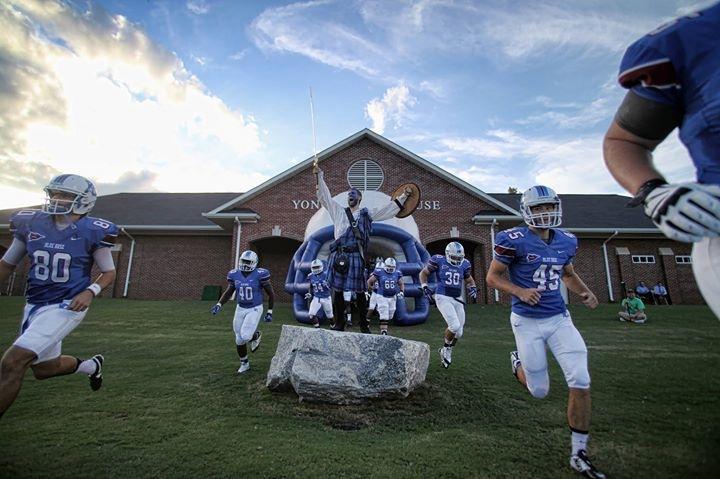 Photos provided by:
Blue Hose Facebook
PC Athletics