Georgia Repairs Proceeding Smoothly
The repairs of Georgia Hall, the largest residence building on campus, have so far not run into any major difficulties, according to authorities. A date for the repairs' completion has not yet been released, however.
Andrew Peterson, Director of Residence Life, said "It is difficult to put a complete timeline on a project…where so many groups of workers are all doing projects at the same time to expedite the process."
"The project is not…a renovation, as it is a 'replacement' of what was damaged by the flooding," he went on to say.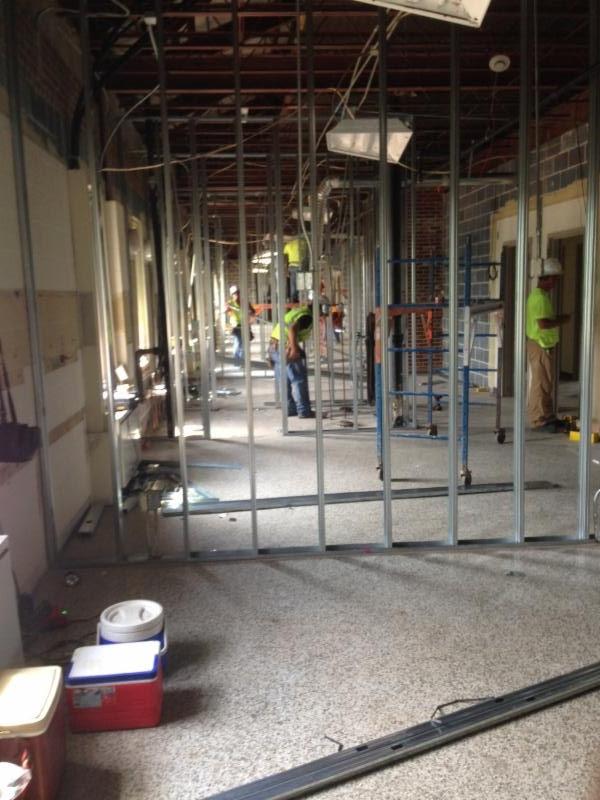 The dormitory experienced significant water damage over the past summer, when a water supply line caused a flood on the fourth floor of the building. Contractors had removed the fourth floor's bathroom vanities to replace piping and install cleanout drains when the flood occurred.
"When the old vanities were removed, the contractor installed a PVC cap on…the sinks. One of the caps failed during the night, causing the flood," said Mark Osinga, Executive Director of Campus Services.
Because of the extent of the damage, students returning to Georgia should expect accommodations closer to the show room displayed last year than their previous rooms. According to Peterson, "Most everything in the buildings…will be new materials…" This includes walls, doors, showers and new furniture able to be moved as the residents wish.
Georgia will receive improvements in other areas as well. A system of cameras will be included to increase security and hopefully decrease vandalism. The parking lot will extend into the space previously occupied by Doyle Hall, in addition to new landscaping.
While construction is under way, students originally slated to live in the dormitory have been living off-campus at the Quality Inn, roughly 3.5 miles away. Students without cars or a desire to commute daily can use a shuttle organized by the college.
It has not been without its challenges. Students have anonymously complained of rooms smelling of cigarette smoke, bug problems, and having to do laundry in a portable trailer located behind GDH.
However, there is a silver lining for students temporarily at the Quality Inn. The renovations to Georgia were originally intended to take place over the course of several years, but will now be completed all at once.
A bi-monthly email will be sent out to students, informing them of the progress of the dormitory's repairs. For more information, students are encouraged to contact Andrew Peterson.