Doyle Lot A Prime Spot….But For What?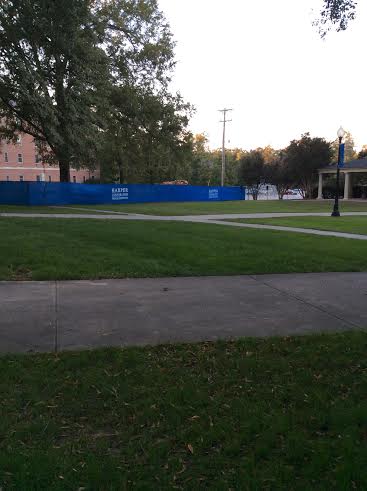 One of the topics that really has students talking around the Presbyterian College's campus is: what's going to happen to the Doyle lot? This space impacts all of us on campus. Doyle was an old, condemned building located between Georgia and Springs. PC finally decided to tear down this eyesore after it had been sitting there for decades boarded up and untouched. Now that the building's been torn down, this raises an important question raised by many students and faculty members alike: what to do with the extra land that Doyle used to sit on.
I decided to go interview some students and see what they would like to see there. Connor Kertes (sophomore), Pravin Gurung (senior), Kristen Crowley (freshman), and Ashlan Andrews (senior), all said they would like to see more parking. According to Ashlan, "A restaurant or greener study space would be nice, but parking is more practical." While some agreed that they would love to have an outside basketball court, pool, a garden or greenery of some sort, or small restaurant added to the campus, the large majority said that parking is the most needed. This applies especially to the seniors who live way out in the townhouses. Lets face it, parking isn't the easiest thing to come across on campus these days (unless you're lucky that day and able to find a spot next to your class/dorm, which is rare).
Joy Smith, Director of PC Student Life, expressed her opinion on the issue, "If we had the funds, a basketball court or other recreational pace would be nice. Also, some pretty landscaping would look good because so many people use that side/parking lot door." She also shed some light on how the decision was made to make it into more parking, "Part of the funds to remove Doyle were coming from a grant. The grant would cover parking and landscaping costs."
The additional parking should be completed in a few months and will include some pretty landscaping. The additional parking does not sound that bad after all, especially at one of the busiest places on campus. While getting a pool or restaurant on campus would be way more fun, more parking is definitely needed around campus. It will definitely save students time and gas and prevent them from having to drive all over just to find a spot, which will be nice in the long run.