The Hyphenated Identity of Caribbean Women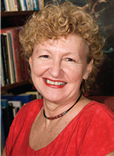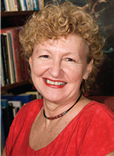 "Let's talk about me," O'Callaghan began, and informed the room full of students and faculty of her expansive cultural experience. Born in Nigeria to Irish parents, she grew up in Jamaica, attended college in Ireland, returned to Jamaica, and then made her home in Barbados. "It's a hard question to answer—where are you from?" she said. With this background, O'Callaghan's question of unhomeliness—of not knowing where to belong—made sense for her to pursue in her research.
Beginning her presentation with the historical background of the Caribbean, O'Callaghan explained the migration experience as the creation of the "original global village" and the "permeable idea of identity" linked to the mixing of such cultures. The European and West Indies cultures intersect in unique ways, giving shape to what O'Callaghan called "a hyphenated identity," seen especially in the new race of creoles, or Caribbean whites, who retained the European racism but adopted other mannerisms unlike original Europeans.
O'Callaghan focused on this distinct creole race, and especially on creole women, because, as she pointed out, women have often been traditionally placed in the home or as the homemaker. Her original question then became magnified—what does unhomeliness mean when the one supposed to make the home doesn't feel like she has one?
Exploring four different novels, O'Callaghan focuses on the various ways each protagonist discovers and reacts to her unhomeliness. From Frieda Cassin's 19th century novel, With Silent Tread which depicts creole women as tainted in comparison to English women, to Jamaica Kincaid's Lucy which shows the reinvention of the protagonist as she begins to see the world she once considered "home" in a different light and questions her identity, each of the novels O'Callaghan analyzes reveals a new and intriguing way a woman views herself in relation to her confluent worlds.
While an hour was not long enough to fully examine each of the novels in great detail, in that short hour, O'Callaghan covered much in the way of exploring and exposing the brilliance of her in-depth analysis of Caribbean fiction and the evolving understandings of self-identity within one's culture and heritage and one's environment. In the displacement that occurs in the effect of unhomeliness, a woman can find herself anywhere and can create for herself her own identity within her own culture, as influenced by the world around her.