PC vs. Miami (Ohio)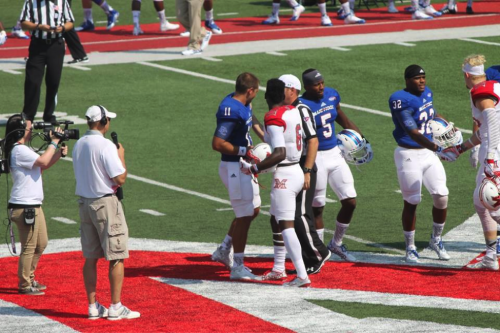 All is right in the world because college football is back! With that it means tailgating, Saturdays spent in front of the tv and most importantly Blue Hose football. Presbyterian College enters this season with high expectations coming off their best year under the realm of Coach Nicholas. Not to mention the returning Big South freshman of the year, Ed Britt, and PC's all-time leading tackler, Donelle Williams. Expectations are high for PC this season. They began their season with a road trip up to take on Miami (Ohio).
Going into the game, one question was on everyone's mind, and that was the play of the quarterback. That question was soon answered as Tamyn Garrick stepped in and threw for over 150 yards and completed more than 50 percent of his passes. His play teamed up with a stellar rushing attack–Darrell Bridges rushed for over 100 yards–and a great defensive performance made this game quite the contest. The Blue Hose would ultimately go onto lose this game 26-7, but they made their presence known in Ohio.
The first quarter can mean a lot. It can ultimately determine how a game can go, and in cases of opening day, how a season will go, too. PC unfortunately could not keep Miami off of the scoreboard in the first quarter. Drew Kummer was able to throw a touchdown to put Miami up early in the game. However, despite the early touchdown, the defensive stepped up and forced a fumble.
The second quarter was very similar.  Miami was able to score a touchdown thanks to Alonzo Smith's rushing ability. PC's Mitchell Anderson was able to block the extra point. PC did make offense noise in the second quarter but unfortunately it led to a missed field goal. The missed field goal must have fired the PC defense up, because they forced another fumble shortly after.
During the third quarter things started to get interesting, as PC held Miami off of the scoreboard and scored a touchdown themselves. The touchdown came from a two yard rush from Darrell Bridges. Unfortunately this was the last and only time PC would put up points.
Going into the fourth quarter, many thought an upset could be on the horizon. Yet the tide turned in favor of Miami, as they held PC to zero points and scored two touchdowns. One of these touchdowns came off a 52-yard touchdown pass from Drew Kummer to Ro Williams. The other touchdown came off another Alonzo Smith touchdown run.
Despite the opening day loss, PC fans should not worry, as this game shows that PC can play with the Division I Football Subdivision schools, so it is very possible PC could be the Big South champions at the end of the season.  The offense of the Blue Hose racked up 318 yards, the most against an FBS school since PC played Wake Forest in 2010. The defense played stellar as well, forcing two fumbles and blocking a point after touchdown. Not to mention Donelle Williams added nine tackles to his PC all time tackle record. With the play of both the offense and defense, our Blue Hose have a bright season ahead of them.
Notable Stats
Offensive
-Tamyn Garrick: 163 yards; 1 interception
-Darrell Bridges: 27 attempts; 126 yards; 1TD
-Daryl Wilson: 5 receptions; 82 yards
Defensive
-Donelle Williams: 9 tackles; 1 forced fumble
-Shonquille "Snoop" Byers: 4 tackles; 1 forced fumble
-DaRon Dickey: 3 tackles; 1 fumble return for 58 yards
-Obinna Ntiasagwe: 2 tackles; 1 fumble recovery
-Mitchell Anderson: 1 blocked PAT