An Interview with Pres. Staton and his wife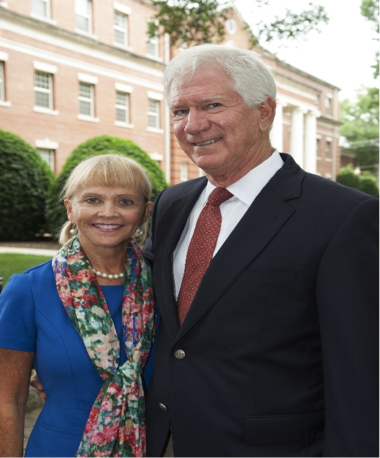 President Staton was selected to be Presbyterian's 18th president this summer, and PC could not be more excited to welcome him and his wife, Phyllis. Graduating from PC in 1968, Staton is not new to the Blue Hose family. In addition to being an alumnus, Staton served on PC's Board of Trustees and worked as the college's executive vice president for external relations from 2007 to 2012.
Even though President Staton graduated from here and is very familiar with the PC community, this is all very new for his wife, Phyllis. However, she loves it already.
"My first occasion to be here was at graduation and I was in awe of not only the beauty of the campus, but also the warmth of the people here," said Phyllis, a retired nurse. "I grew up in a small town outside of Columbia, a mill village, so there are a lot of similarities in the town of Clinton. Right away, I felt the warmth of the city. I am very impressed with the people here and I am impressed with the honor system, as well."
As mentioned before, Staton is not new to the PC campus and has big plans now that he is back. "I want to try and bring us all together as family whether you are faculty, staff, regular students or athletes," Staton said. "We all need to focus on strengthening the school and continue to work hard to attract and retain more students."
President Staton also wants to renovate Neville Hall. "We need to finish the fundraising for Neville. We have raised close to eight million dollars, but we need eleven million dollars to start building. We would like to get money for Neville so we can get that started and we can go ahead and break ground. As the fall comes together, we will have two plans for January. If we do not start renovating, things will stay as they are. The second plan deals with where we are going to put the different classes and working around people's schedules."
Neville is not the only thing that the president plans to renovate. He also plans to renovate more of the dorms and the surrounding buildings on campus. "We also need to raise the funds to do senior housing, because we do need that. Spradley was the last senior housing that we built, and that was at least ten years ago. We are doing more of the dorms and we did more this summer in other buildings. I hope the people will see what we have done. HP has been renovated. A lot of things like that have been over the summer that have made a big difference. It's amazing what some paint and some new flooring will do to a room. And we are trying to do something each summer to make the campus look better and feel better."
In the past, there have been several questions on the future of our Division I status here at PC, but in this interview, President Staton seems to lay those questions to rest.
"Athletics is something that is always going to be a challenge because it costs a lot of money, but I think that it is something that we need to continue. We are fortunate that our student athletes are good students and good people. We need to get our alumni to become more supportive both in attendance and on the financial terms of athletics. We have to manage the cost of it, but it is a critical part of our student body, and we need to grow the other side of our student body. We need to focus on pulling together, strengthening the school, and growing the population. We need to come together. We do not need anything dividing us."
We are very excited to have him back here with us and we look forward to a great first year!