Confucius Institute International Day
The Confucius Institute International Day came to Springs this weekend, and several countries were very well represented. Each of the different countries provided a very detailed and descriptive informational board about their country. Many of the display tables provided food samples that accurately depicted the country's culture and allowed the students and visitors to taste keynote dishes of the country. In addition, there were several original art pieces made by different artists.
The experience did not stop there, however. Some countries went above and beyond to try and ensure a nice cultural experience for the people who came to the fair. "China" provided a very excellent display including an arts and crafts type of section that allowed festival goers to participate in traditional Chinese painting of different letters and symbols. Attendants of the event were also able to learn Chinese chess and cut out different figures and symbols of Chinese culture. This was able to get people of all ages involved and helped everyone to learn about the culture.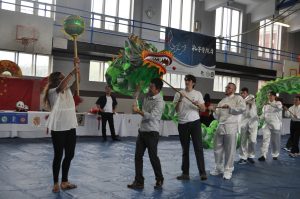 Young students from the Midlands Stem Institute attended the event as well, and all watched a beautiful Dragon Dance performed by PC students and faculty. Even some of the MSI school students were able to volunteer and a perform their own Dragon Dance to the sound of a beating drum.
PC's tai chi students also gave a demonstration of the tai chi forms they have learned in class so far, and the tai chi instructors gave a lesson for the public, which the MSI students thoroughly enjoyed, as did President Staton.
Dr. Liu, the director of the Confucius Institute, gave a small speech after the demonstrations, and Dr. Sharon Knight of the Modern Foreign Languages Department thanked the support of PC for putting on the event. President Staton also spoke at the podium, addressing the importance of such events as the Confucius Institute International Day, while also commenting on his difficulty in the art of tai chi, which caused many good-natured laughs to be heard around the gym. Even the principal of MSI gave a heartfelt speech about the importance of such collaborative efforts between small town schools to give students of all ages an enriching educational and cultural experience.
After the speeches, the MSI students gave their own performances of song and dance in appreciation of PC's Confucius Institute and other departments for putting on the International Day. Shortly thereafter, the John King Band performed live for the event.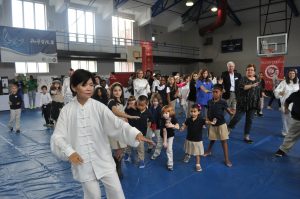 Liu had one central goal in mind when putting on this International Day. He aimed to "introduce the students of Presbyterian to different cultures and allow them to make connections." Liu also strives to create more of a global community here at PC that forces students outside of their comfort zone. He wants all students to feel welcome while having a wide variety of cultures represented here at PC.
This year's International Day was wildly successful and very informative!