"Shield and Spear" Review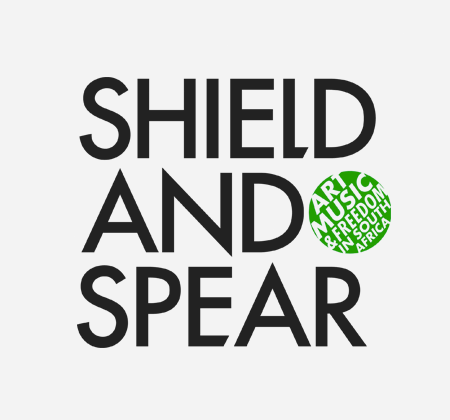 Last Tuesday, the Southern Circuit Film Series returned with Swedish filmmaker and director Petter Ringbom's Shield and Spear. A documentary focusing on the artistic community of South Africa responding to political controversies of human and artistic rights, Shield and Spear takes the viewer on a whirlwind visual and musical ride through many South Africa artists' lives and struggles.
Jumping right into the film with a flurry of lights and colors and passionate drumbeats, Shield and Spear opens with the artist responsible for a political uproar in the artistic community, which serves as the film's center. Brett Murray is an artist from Cape Town whose main focus is on political satire. In an exhibition at the Goodman Gallery, his works took inspiration from Soviet iconography and propaganda to create a satirical vision of greed and new power, which was then represented in the painting of South African president Jacob Zuma with his genitals exposed, titled The Spear. This painting received extensive attention and backlash from the state and Zuma's party, the African National Congress (ANC).
While the ANC had at first been a party symbolic of freedom from apartheid, which ended in South Africa 20 years ago, currently the party seems to have become stuck in the status quo of holding onto old sentiments. It is the ANC's inaction of enforcing social and racial equality that has spurred many South African artists to raise up their voices against the continual discrimination. One artist, Zanele Muholi, is a lesbian photographer and LBTQ+ rights activist who is very vocal about her purpose and the purpose her art serves. Her photography is not just a hobby to her, it is a political telling of people's stories without fear of being judged.
"I want to be me," Muholi states, and that is true for the many other artists and people of South Africa.
Shield and Spear follows many other artists, including the musical groups Gazelle and Invizable and The Brother Moves On, and the fashion group Smarteez, documenting the ways these artists give their political voice through their art into the community and inspire the community to gain its own political voice, as well.
The documentary's soundtrack, featuring a wide array of genres such as experimental and alternative South African rock and a new genre called LIMPOP, a fusion of traditional African and funk and electro, includes music from each of the musical artist shown in the film. Occasionally throughout the film, lyrics pertinent to the situation being described in the film show up on screen. When these moments occur, they seem to blend in with the background, serving as a visual portrayal of an almost natural synthesis between the lyric's political meaning and real-world application.
The film Shield and Spear offers a very active and very loud, visually and musically, political voice from the South African artistic community. But not in a bad way. Rather, such loud vocalization of political activism is something of pride in the film and is a call-to-action for other artists to join the cause and to join the dialogue, whether it is in their community or in another's.
The next film screening will be on Nov. 12, featuring Frame by Frame, a documentary focusing on the dangerous media landscape of photojournalism in Afghanistan.