Wind Ensemble and Jazz Band Concert Review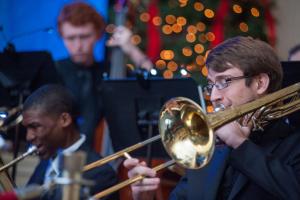 "There are two kinds of music: the good music…and the other kind." If you're a jazz enthusiast like myself, or just enjoy music in general and weren't at the Wind Ensemble and Jazz Band concert last week, you certainly missed out on some great tunage. The talent seen at Presbyterian College often ceases to be recognized outside of the football stadium, baseball field, basketball court, etc. I don't think our talented musicians at our school get enough recognition.
The Wind Ensemble played a variety of different pieces, however as soon as I saw that they would be playing a medley from the Broadway Musical Wicked, I almost died. Who doesn't love Wicked?! I could hardly keep myself from bursting out singing, "I think I'll tryyyyy defyyyying graaaavity!" I mean, come on. It has to be one of the best musicals ever.
On the other hand, the jazz band played a variety of songs that allowed members of the jazz band to be featured mid-song. There were guitar solos, saxophone solos, trumpet solos, and so much more. I have grown up listening to jazz music my whole life and I must say, I was quite impressed with the talent that was on stage at the concert.
Presbyterian College's music department did a great job coordinating this very fun, energetic, and classy concert for students on campus as well as the public. Great job musicians!