Movies to put one in the Holiday Spirit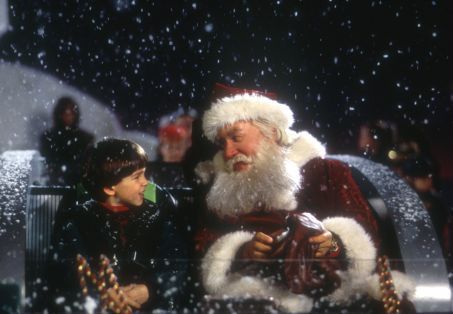 During the holiday season people prepare themselves by listening to Christmas music, decorating their house, going caroling, looking at Christmas lights, or (my personal favorite) watching Christmas movies. Everyone has one Christmas movie that gets them in the holiday spirit, a movie they watch at least every year. So here is my list of the top ten movies to watch this holiday season.
Honorable Mention
I will be Home for Christmas
During the 90s, teen heartthrob Jonathan Taylor Thomas dominated television with his hit show "Home Improvement," but for this film he decided to take his talent to the movie screen. The movie is essentially about a college kid trying to make it home for Christmas. Originally he is supposed to drive back with his girlfriend, but after a night of drinking he wakes up in the middle of the desert. Problems and laughter are sure to follow.
10) The Claymation movies
I could not really pick one of these movies so I decided to group them together. Everyone loves to make fun of how bad these movies are, but every year everyone is sure to watch them, whether it is Santa Claus is Coming to Town or The Year Without a Santa Claus. That's why these films make the list. Sure they are not the best films (in my opinion) but they definitely put someone in the Christmas spirit.
9) Polar Express
Honestly I am not a fan of this movie (more of a fan of the book), but a lot of people love it. The movie tells the story of kids who take train to the North Pole and some even get to meet Santa Claus, which is every kids' dream. (Heck, it's my dream too.) This makes my list because it puts everyone in the holiday spirit. This film is great in the sense of someone can make a night of it, reading the book and then watching the movie.
8) Nightmare Before Christmas
To be honest this film sort of creeps me out. But I mean a film that counts as both a Halloween and Christmas movie is pretty awesome. I suggest watching this if you want to get in the holiday spirit or if you simply miss Halloween. After watching it, be sure to let me know if you classify it as a Christmas or Halloween movie.
7) How the Grinch Stole Christmas (live action)
"You're a mean one, mister Grinch." Everyone grew up reading this book and being able to see it on the TV screen was a dream come true for us as children. Someone hating Christmas still baffles me to this day, but luckily for the people of Whoville, the Grinch had a change of heart. Be sure to watch this movie if you want to get in the spirit or for a laugh.
6)  The Santa Clause films
Sometimes it hard to picture Tim Allen in anything but a Christmas movie (he has been in 4 films), but these films are some of the best at Christmas. Granted they got progressively worse, but they are all movies that will surely put you in the spirit. The Santa Clause films give us an inside look of what it takes to be Santa Claus and how the North Pole really operates. If you are looking for a film to strengthen your belief in Santa Claus, this is the film.
5) Elf
A holiday favorite of many people and truly a funny film. Not to mention one of the most quoted Christmas movies there are. Will Ferrell truly shines in this film as Buddy the Elf. This film puts everyone in the spirit because it has humor for everyone in it. This film is special because it brings out the kid in each and everyone one of us.
4) Home Alone 1 & 2
The rest of these films, we all know, are not that great. But Home Alone 1 and 2 are movies that perfectly describe what we as children loved to watch on TV–it made us as kids think we could defend our home if we had too. This movie is perfect for the holidays because not only does it get us in the holiday spirit but it makes us have greater appreciation for our family. And that is what the holidays are about.
3) Jingle All the Way
I may be a little biased here but I have to put one of my favorite childhood movies on the list. I'm sure I'm not the only one who wanted a Turbo Man action figure thanks to this movie. This movie is full of laughs between funny man Sinbad and tough guy Arnold Schwarzenegger and the plot is not that bad either. The underlying message is not that bad either. Take the time to watch it, get in the spirit, and have a few laughs.
2)  National Lampoon's Christmas Vacation
Out of the National Lampoon films series this is truly the best film (and that is saying a lot). It is a movie about a man stressing out about the holidays as he deals with his wacky family (something we can all relate to). Despite all the wackiness of the film, it shows us that family is truly what is important. This is a film we can all relate to and get the Christmas spirit from.
1)  Christmas Story
"You will shoot your eye" out or "Oh fudge" are both classic lines from this Christmas film. This movie is one everyone should see and it's quite easy to find on TV. TBS plays it all day on Christmas.  So in case you are wondering for Christmas, I want an official Red Ryder BB gun.