Dr. Terry Barr Reads Debut Collection at PC
What is it like to gain a voice, to craft that voice into writing, and then to bring it forth as speech in a public reading? That is a question I have often wondered about for myself as a writer, and certainly one that Dr. Terry Barr, professor of English, has considered, too. Yet for him, his voice has given rise to a newly published collection of nonfiction essays about his childhood days in Bessemer, Ala. His book, titled Don't Date Baptists and Other Warnings from my Alabama Mother, tells the stories of the strange, yet very real people who lived in Bessemer and the events surrounding them with a quirky Southern Gothic charm characteristic of small, rural southern towns.
Published in February 2016, Barr's first public reading of his new collection took place at Presbyterian College on March 10 at Harper Center Theatre. Many students and professors filled the rows of chairs that faced the podium where Barr was standing, talking with students and with family members who had come to hear him read. Mr. Robert Stutts, director of PC's creative writing program, introduced Barr to the stage.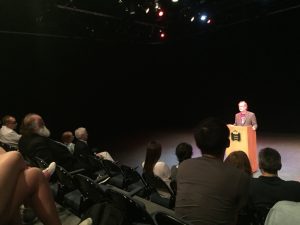 Barr opened the reading with an essay that is forthcoming in publication in the summer, titled "Penny and Tom." In his deep voice that makes him seem familiar to anyone who hears, Barr told the interweaving stories of getting his pet cat Tom, who was smitten with the neighbor's cat Penny, and of the girl who he got Tom from and the loss of her father to a heart attack. A poignant story that smoothly transitioned between the various tales of cats and relationships and loss, "Penny and Tom" set the mood for the next essay Barr read, titled "Neither the Season, Nor the Time," which is the sixth chapter in his book.
"Neither the Season, Nor the Time" tells the story of a well-loved African American janitor at Barr's childhood church who was murdered by a white man. Detailing the effects of the loss not just in the church and in the community, but also in Barr, this essay brings into question just how long do such traumatic events last in the public and the private mind, and what sorts of statements about society and time are made in the aftermath of tragedy.
Following the reading was a question and answer session, and in the wake of the second essay, someone asked, "What seems like the most alien part of that time period?" To which Barr responded, "The people were so nice, incredibly nice," despite the stain of racial prejudice.
Barr told of how in many small towns people knew who you were, yet when Barr was growing up, he found it hard to realize what segregation really was or what is was about, noting how one day he was yanked away from drinking from the wrong fountain.
"It seems impossible in context," he said, meaning how people could be so nice and yet still demonstrate such terrible sentiments. He told of how the public swimming pool was filled in when segregation ended and how next to the welcome sign for Bessemer was a sign from the United Klans of America.
Asked how he avoided falling into the same ideas, Barr said that reading many books and his parents' mixed religious backgrounds and combined dislike for George Wallace were the biggest influences on his views.
As the kid who liked to listen to his parents tell stories on the porch, Barr has developed a great memory that's evident in the detail and the dialogue of his essays.
"His stories read like dialogue," stated Dr. Lesley Preston, a PC theatre professor in attendance.
And the easy-telling of these stories, the way the words and the events play out as Barr read his essays, definitely made the reading enjoyable and made me as a listener emotionally invested, which is one of the marks of a great story or storyteller.
Barr said at the reading that especially finding connections between songs and these stories helps to keep his memory sharp, but other times he calls his brother, who has an even better memory. Or he finds other people to talk and listen to, learning and collecting their stories also.
Towards the end of the discussion, an audience member commented on Barr's subtlety of tone, saying that it gave him hope that society hasn't lost its sensitivity. "I have struggled for a long time to be heard," Barr said, "to develop that voice." From keeping things to himself for many years to journaling throughout those years without showing anyone, he told of how he has had to work really hard to attain and speak that voice with its subtle, yet deeply hopeful tone.
With an answer like that ending the discussion, the popularity of the book signing following the reading seemed a perfect way to close the first of many of Barr's public readings to come.
For more information about Barr's book, or to see his upcoming reading events, check out his website at https://terrybarr.wordpress.com, or like his Facebook page. His book is available for sale in soft print on Amazon.