The Taste of Success: PC Soccer Like You've Never Seen It Before
If you haven't been to a PC soccer game this fall, you are missing history in the making.
Silly journalistic exaggeration? Well… consider the following: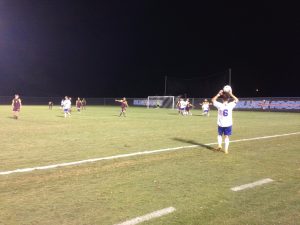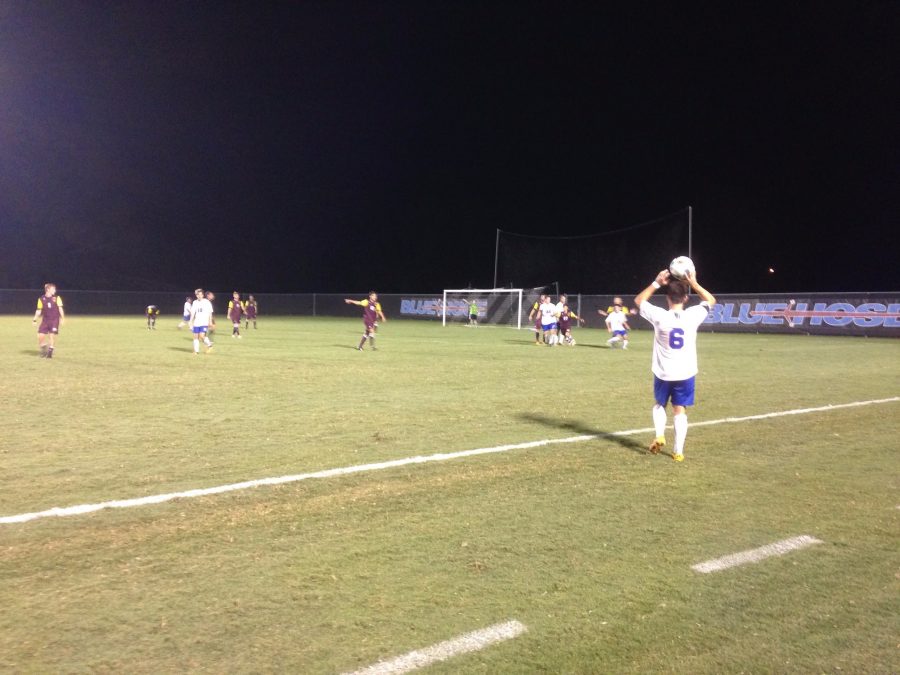 Last night, PC won their fourth game of the season, beating Winthrop, the highest ranked team in the conference. Actually, it wasn't just a win; it was a 3-1 shellacking.

The win put them at 4-6 overall. They've won three in a row and are undefeated (2-0) in conference play.

Last season, the men's team was 0-16-1. That's right, they didn't win a single game.

The previous season, they won one, and only one–an exhibition game versus Wofford.

At roughly the midpoint in the season, they have won more games than they won in the past two years.

The last time our soccer team won a game by two goals was October 5, 2013. Our five seniors were freshmen.

This is the first time since joining Big South Division I soccer that the team has A) started conference play with two wins, and B) won three games in a row.
Fact-checkers, feel free to prove me wrong. Men's Soccer Statistics are readily available on the Big South website. As striking as the stats are, the narrative on the field is even more compelling. PC looks like a team that believes. They dictate the pace and movement. They possess the ball and make other teams chase. They defend with intelligence and convert to attack with deft swiftness.
Their newfound confidence has fostered a heretofore unseen artistry, informed by creative possession-dribbling in the midfield, bold runs off the ball, and patient ball distribution in the final third. At times, it's hard to believe you're watching the same team. In one important way, you're not: Coach Jonathan Potter was brought in from Elon this past spring to usher in change. It appears to be working.
In building a new hen house, Potter has ruffled some proverbial feathers, sitting players who were accustomed to significant playing time and starting others with no collegiate experience. Mind you, the experience of Connor Behrend, Bruce Olivier, John Speed, and Mason Lewis is still present, but dazzling innovation is springing to life from freshmen like Sebastian Carlson and Sergio Pinto.
Most important of all, everyone is playing with trust: Trust that when a player distributes to a teammate in heavy pressure, that teammate will one-touch to an open teammate who can raise his head and attack. Trust, in other words, leads to possession. Possession to confidence. Confidence to winning.
Trust is often elusive, even when you can spend big money on players. It's therefore foolish to credit a single player for building team trust. And yet, at the risk of foolish reporting, I would suggest that one player HAS played a critical role in building this trust: Freshman midfielder Ricardo Hernandez. Not blessed with blinding speed and not the most dazzling of dribblers, Ricardo specializes in keeping the ball in PC possession. Look for him in the middle of the field, where he touches the ball… A LOT.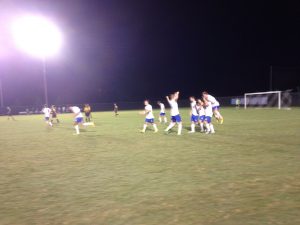 Hernandez wears #10, which in itself is an act of hubris, since 10 is typically reserved for the Peles, Diego Maradonas, and Zinedine Zidanes of world football. But in the somewhat smaller world of Big South collegiate soccer, Hernandez is well on his way to becoming a legend. If you follow international soccer, think Andrea Pirlo when he played for Milan, or when Italy won the World Cup in 2006.
Coach Potter convinced Hernandez to come to PC during a recruiting trip in Europe last spring. While in England, Potter bought some Leicester City scarves to bring back as gifts. Leicester was finishing up their own miracle season in the English Premier League, where they pulled off what most call the most dramatic turnaround in the history of English football.
Last night, Athletic Director Brian Reese related to me that he was one of the lucky recipients of a Leicester City scarf. When Potter presented Reese with the gift, he somewhat brazenly promised, "That's gonna be us: Last to first, just like Leicester City."
I'm not sure Reese believed him at the time, but Potter is well on his way to a Leicester City season. Last night I asked Potter what it will take to continue what they've started. "[The] biggest challenge … will be to maintain complete focus on each game as it comes. We will work very hard to stay hungry and keep a strong mental focus."
Usually historic moments are recognized in hindsight. But you, lucky reader, may have the opportunity to be there when it happens. Next home fixture is October 15th, 2 pm. I expect to see you there, hands in the air, PC Soccer scarf raised high.