Women's Basketball Team Gives a Helping Hand to Hilton Head
Classified as a Category Five storm at its peak, Hurricane Matthew was devastating to all of the communities that encountered. Killing over nine hundred people in Haiti alone, it was clear that this storm was going to be a devastating storm of historic proportions. By the time the storm hit the coast of South Carolina, it had dropped to a Category One, but it had winds of over 70 mph. With such strong winds, there was intense damage, and volunteer cleanup crews were needed in order to help restore the community. On Oct. 22, the PC Women's Basketball Team traveled to Hilton Head Island and partnered with PC alum Bill McCutchen and Hilton Head Presbyterian Church to help remove tree limbs, branches and other debris from the houses of Hilton Head citizens free of charge. Removing a single tree can cost anywhere from $500 to $2,000, which can be a heavy burden for homeowners without insurance.
In addition to removing debris from the storm, the Women's Basketball Team partnered with Bluffton Self Help in order to provide food for victims of the hurricane who could not afford it or had run out.
Senior Kaycie Reffner said that this day "was a great opportunity to give back to the people in Hilton head who lost pretty much everything during the hurricane."
No act of kindness, no matter how small, is ever wasted—anything has the potential to positively impact someone's day. All in all, the team had a great day and enjoyed the opportunity to give back to those who were in need. One of the women whom the team helped was celebrating her 73rd birthday, and claimed that it was the best present that she could have asked for. While cleaning up a fallen tree in her yard, it was clear that if it had fallen inches the other way, the tree would have gone through her house and caused a considerable amount of damage. Thankfully, however, it did not, and everyone in her house was unharmed, though a little shaken up. Seeing the look of gratitude on her face was truly heartwarming, special and very rewarding.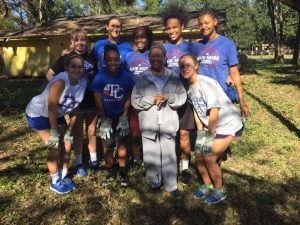 Junior Allie Wagner said that the experience "was a chance that made us closer as a team and it just showed how lucky we were not to have been affected by the hurricane and how grateful she was for our help and even though her backyard was destroyed she was still really happy considering her house (and birdbath) was still standing."
PC's motto of dum vivimus servimus is so important to remember as our schedules become more and more busy. This service project is only the first of many as we try to continue to pay it forward!