Breathing New Life into Historic Clinton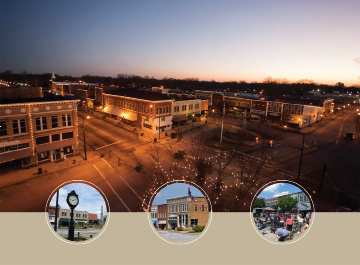 If you've been to downtown Clinton since the school year began, you've no doubt seen the various ongoing construction projects. Torn up sidewalks, hazard tape and signs that proclaim the "Revitalization of Clinton Project" are common. But what exactly is the extent of this "revitalization?"
Jerre Threatt is the Director of Community Development in Clinton and one of the driving forces behind this project. According to Threatt, the project received input "from a large group of stakeholders," including the City Council, Presbyterian College and several local businesses. Together, with Creative Economic Development Consulting, they devised a five-year plan for "economic development, growth and vitality in the Clinton community."
"The overall goal of this revitalization is to improve the physical landscape, business climate, and vitality of the downtown area," Threatt said. He said that the project should have a similar impact as PC's School of Pharmacy expansion into downtown, which created 200 jobs. Both the city's budget and the National Trust for Historic Preservation will provide the funding for the project.
Presbyterian College will also be a beneficiary of this project. "The college is a source of much pride and heritage in the community," Threatt said, and noted that PC's faculty and students are all important downtown customers. PC students can expect improved bicycle and pedestrian paths to downtown, which will be particularly helpful for students without cars.
Furthermore, PC and the City of Clinton "are currently partnering on a multi-million dollar recreational facility that will be a major source of sports tourism in the coming years," Threatt said.
Most recently, the streetscape projects of N. Broad and W. Main Streets were completed, and now the city is focusing on an "$800,000 rehabilitation of one of the most prominent buildings on the square," Threatt said. This improvement will result in three new retail locations and new apartments on the upper floors. Other upcoming projects include improvements to the Millers Fork Trail and Sterilite Park.
The takeaway from all this? With the recent addition of new food options on campus, the renovation of Neville Hall, and now the Revitalization of Clinton project, this is probably the best time in 16 years to be a freshman and incoming student at PC.